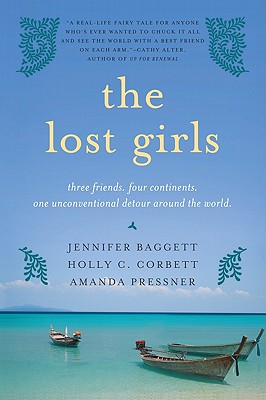 The Lost Girls (Paperback)
Three Friends. Four Continents. One Unconventional Detour Around the World.
Harper Perennial, 9780061689079, 538pp.
Publication Date: April 26, 2011
Description
"Brave, funny, and deeply moving."
-- Cathy Alter, author of Up for Renewal: What Magazines Taught Me About Love, Sex, and Starting Over
"Three cheers to The Lost Girls for showing us, with good humor and graceful prose, the beauty and importance of leading life astray."
-- Franz Wisner, New York Times Bestselling author of Honeymoon with My Brother
Three friends, each on the brink of a quarter-life crisis, make a pact to quit their high pressure New York City media jobs and leave behind their friends, boyfriends, and everything familiar to embark on a year-long backpacking adventure around the world in The Lost Girls.
Praise For The Lost Girls: Three Friends. Four Continents. One Unconventional Detour Around the World.…
"[P]otentially serious side effects [include] chronic wanderlust; severe allergic reactions to the daily grind; and an incurable desire to toss that Blackberry down a drain….Three cheers to the Lost Girls for showing us, with good humor and graceful prose, the beauty and importance of leading life astray."
-Franz Wisner, New York Times Bestselling author of Honeymoon with My Brother

"Brave, funny, and deeply moving, THE LOST GIRLS is a real-life fairy tale for anyone who's ever wanted to chuck it all and see the world with a best friend on each arm."
-Cathy Alter, author of Up for Renewal: What Magazines Taught Me About Love, Sex, and Starting Over

"The three authors, all gifted writers...provide passionate, vivid descriptions of their far-flung travels, bolstered by thoughtful insights and genuine intentions, making this an intensely enjoyable read for fans of travel writing....immediately relatable for any twenty-something unsure of his or her future (i.e., most of them)."
-Publishers Weekly (starred review)

"For anyone-young or old, female or male-who has ever been tempted to trade in the rat race for the thrill and adventure of long-term global travel. And after reading this book, don't be surprised if you want to do just that."
-David Farley, author of An Irreverent Curiosity

"The Lost Girls captures the generational struggle so many twentysomethings face as they try to find their way with no clear map. I ... found myself cheering as they discovered more than they could have bargained for."
-Laura Dave, author of The Divorce Party

"A triumphant journey about losing yourself, finding yourself and coming home again. Hitch yourself to their ride: you'll embark on a transformative journey of your own."
-Allison Winn Scotch, New York Times bestselling author of The One That I Want and Time of My Life

"...[W]hen it comes to travel (and most other things), a goal is a dream with a deadline, but the Lost Girls have gone one step further….The best travel adventures, the most memorable experiences happen when things don't go according to plan. That's why I love this book."
-Peter Greenberg, Travel Editor, CBS News

"...Jen, Holly and Amanda's lively accounts make for the ideal armchair journey."
-Booklist

"…the real appeal of the story is the long road they take together, each supporting the others on a soul-searching quest to create a life that matters."
-BookPage

"Jennifer, Holly and Amanda have had the adventure of their lives."
-Los Angeles Times
Advertisement