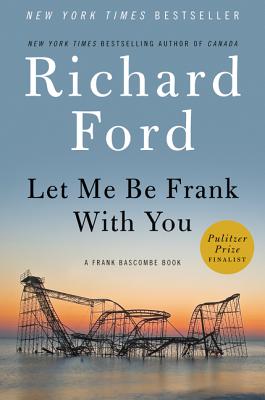 Let Me Be Frank With You
A Frank Bascombe Book
Hardcover

* Individual store prices may vary.
Other Editions of This Title:
Digital Audiobook (11/3/2014)
Paperback, Large Print (11/4/2014)
Paperback (10/13/2015)
Compact Disc (11/4/2014)
Compact Disc (11/4/2014)
Description
Finalist for the Pulitzer Prize
A brilliant new work that returns Richard Ford to the hallowed territory that sealed his reputation as an American master: the world of Frank Bascombe, and the landscape of his celebrated novels The Sportswriter, the Pulitzer Prize and PEN/Faulkner winning Independence Day, and The Lay of the Land.
In his trio of world-acclaimed novels portraying the life of an entire American generation, Richard Ford has imagined one of the most indelible and widely discussed characters in modern literature, Frank Bascombe. Through Bascombe—protean, funny, profane, wise, often inappropriate—we've witnessed the aspirations, sorrows, longings, achievements and failings of an American life in the twilight of the twentieth century.
Now, in Let Me Be Frank with You, Ford reinvents Bascombe in the aftermath of Hurricane Sandy. In four richly luminous narratives, Bascombe (and Ford) attempts to reconcile, interpret and console a world undone by calamity. It is a moving and wondrous and extremely funny odyssey through the America we live in at this moment. Ford is here again working with the maturity and brilliance of a writer at the absolute height of his powers. 
Praise For Let Me Be Frank With You: A Frank Bascombe Book…
"Frank Bascombe, the protagonist of The Sportswriter, Independence Day, and The Lay of the Land, continues to reflect on the meaning of existence in these four absorbing, funny, and often profound novellas." — Publishers Weekly
"Ford is celebrated for his Frank Bascombe novels--stories swirling around the life of a middle-aged real estate agent. His profession lends itself to Ford's rich descriptions of natural land. Here, Ford places Bascombe in the wake of Hurricane Sandy." — Huffington Post, Best Books for Fall 2014
"The American master returns with another dispatch from Frank Bascombe." — San Antonio Express-News
"Frank Bascombe, the protagonist of The Sportswriter, Independence Day, and The Lay of the Land, continues to reflect on the meaning of existence in these four absorbing, funny, and often profound novellas...Readers who met Frank in Ford's earlier novels will quickly reconnect with his indelible personality." — Publishers Weekly
"… caustically hilarious, warmly philosophical, and emotionally lush… In each neatly linked tale, Frank ruminates misanthropically, wittily, and wisely about love, family, friendship, race, politics, and the mystery of the self…Like Frank, Ford, certainly is incisively frank, forensically observant, and covertly tender." — Booklist (starred review)
"Bascombe is a little grumpier than before but no less introspective...As in the previous books, his fast-running internal commentary on those neighbors...is the book's engine, streaming along, carrying us from one scene to the next and binding them all together." — Town & Country
"In his Frank Bascombe novels--The Sportswriter, Independence Day and The Lay of the Land--Richard Ford bares the male psyche at various ages. Bascombe is retired now, and let's just say: Life's leading to one inevitable place. As ever, his ruminations offer insight." — AARP, Editor's Picks
"Deeply elegiac tales… A notable addition--and perhaps coda--to Ford's 'Frank Bascombe' trilogy; highly recommended." — Library Journal (starred review)
"The Pulizer Prize-winner ricochets off his 'Frank Bascombe Trilogy' of novels (The Sportswriter, Independence Day, The Lay of the Land) with four themed stories told by Bascombe, his insightful, funny and irreverent main character now living in New Jersey." — Sacramento Bee
"Bascombe himself is still alive at the end of Let Me Be Frank With You. If he and we can defer the call of mortality, we can only hope to meet him again in 10 years' time." — San Francisco Chronicle
"Frank has reached his twilight years with his trademark wit and ruminative self-awareness intact, even if his body is starting to slide into geriatric betrayal...There's no doubt that this is the same old Frank.."Grade: B+ — Entertainment Weekly
"Incredibly, Ford maintains, over 30 years, Frank's voice-he sounds much as he did when he was 38, except he is a little more prone to pontificating… This is what gripped readers on the first page of The Sportswriter…and what continues in Let Me Be Frank With You." — Chicago Tribune
"The fact that Let Me works as well as it does is a testament to Mr. Ford's strengths as a writer and his ability to turn his hero's contradictions and discontinuities into something more like the genuine complexities of a real human being." — Michiko Kakutani, New York Times
"Of all the serial heroes bustling through postwar American fiction, Frank Bascombe makes the strongest claim on our affection… It is Mr. Ford's achievement to have made the musings of this suburban everyman captivating." — Wall Street Journal
"The stories…serve as vehicles for Frank's witty, sad, poignant and incisive ruminations on life in America in the early 21st century... Readers of the Bascombe trilogy… are sure to be delighted at this unexpected opportunity to renew their acquaintance with Frank and see how he's coping with life's changes." — Lisa Ko, author of The Leavers
"Funny, touching and profound… Threading its way through all four tales is Frank's (Ford's) sometimes chilling, always wry take on mortality… The ability of slight things to forestall reflection on the weightiest of issues is Ford's rich theme here, and no one mines it more eloquently." — Financial Times
"Though his wit tends toward the acerbic, there's an undercurrent of gratitude for everything that's come to him… Anyone who's followed that life since it first appeared on the page can only feel a similar gratitude to Ford for having created it." — BookPage
"The beauty of this book lies in its encompassing humanity, its juxtaposition of gravity and wit, and the flawed duality of our protagonist… Ford illuminates parts of us all." — Portland Press Herald
"In four richly luminous narratives, Bascombe (and Ford) attempts to reconcile, interpret and console a world undone by calamity. It is a moving and wondrous and extremely funny odyssey through the America we live in at this moment." — Jackson Free Press
"Let Me Be Frank with You marks the fourth book that Frank [Bascombe] has taken center-stage, and the four stories offered between its covers find the character now deep into his waning years--the age that Frank refers to as his 'Default Period of life.'" — NPR, The Two-Way
"Frank is pushing 70 but he remains a fascinating emblem of his times… I admire Ford for bringing back Frank Bascombe as an old man and for creating a form and compressing a style to represent one late sexagenarian's circumstances and consciousness without succumbing to geezer sentimentality or contrived serenity." — Daily Beast
"Despite the sober subject matter, Frank is as bitingly funny as ever. His choice observations and the stories he tells reveal a man whose limitations and failings coexist with soaring attempts to make sense of a world undone by fate." — Shelf Awareness
"[Subtle] stories told with wit and grace… Ford has established himself as one of contemporary America's most interesting storytellers. Let Me be Frank with You does nothing to diminish this well-deserved reputation." — New York Journal of Books
"Frank Bascombe, who made his first appearance in "The Sportswriter" in 1986, returns in his fourth novel, and there are abundant reasons to be grateful." — San Francisco Chronicle
"Now Frank has returned, ushering us through the four linked novellas in Let Me Be Frank With You - which arrives, like an early Christmas gift, to soothe fans who assumed they'd never again have the pleasure of wading through his stream of consciousness." — Washington Post
"A quartet of stories set around Christmas 2012 (each Bascombe volume co-opts a holiday), amid the physical and emotional debris of Hurricane Sandy, it's an estimable book-wise, funny and superbly attentive to the world. If this is the last of Bascombe, it's an honorable end." — Time
"[Frank Bascombe is] as ruminative as ever, continually brooding over past and present; as ironic as ever, flippantly naming his retirement status 'The Next Level'... And this Mississippi-born gentleman also remains as charming and gracious as ever… [A] substantial work of fiction… [a] sharp-eyed collection." — Newsday
"Though often compared to Updike's Rabbit, Frank is far more discerning and sophisticated. He analyzes the landscape, while Rabbit melts into it. He comprehends what only mystifies Rabbit." — Newsday
"Four novellas featuring Frank Bascombe, the main character from three of Ford's most highly acclaimed novels. Bascombe is older, and though he may not think he's any wiser, readers will disagree." — San Francisco Chronicle
"Through Ford's writing, Frank Bascombe became a major literary figure during the final years of the 20th century, serving as a witness to the era's aspirations and defeats… Frank Bascombe remains a literary character who is capable of striking chords in readers that they will clearly recognize in themselves." — Bookreporter.com
"Say it ain't so, Frank. I never want him to leave the theater, at least not before I do. In the meantime, the stories in Let Me Be Frank with You have led me back into rereading the earlier Bascombe books - an advantage of art over life." — NPR's Fresh Air
"…you don't read the Bascombe books for plot. You read them for Ford's gleaming sentences, which in Let Me Be Frank are as burnished as ever, and for the quality of Frank's questing intelligence, which persists in sensing what's coming." — USA Today
"In this impoverished context, we should be deeply grateful for Richard Ford…Moments like these give us Ford at his very best: a masterful observer of the quiet, quotidian world..." — Boston Globe
"I've known Frank since the publication of The Sportswriter in 1986, when word went out that Mississippi had produced yet another brilliant novelist. His writing and pithy insights keep pages turning...The funny, and sometimes sad, truth of his stories verifies our own reality." — Miami Herald
"Small, everyday transgressions and the gravity of their consequences are the quiet calling cards of Ford's fiction… In this latest book he is watchful, bends to the truth, always stops shy of mawkishness and is never self-pitying." — St. Louis Post-Dispatch
"Ford steers clear of autobiography in his fiction, but his ability to tease out the psychological nuances of his heroes has made him a legend." — New Orleans Times-Picayune
The heart of the genius of Frank Bascombe [is that] Ford could have suffocated him with the strictures of a quotidian existence… Instead the ordinary is an aperture into the extraordinary. — Newsweek
"Richard Ford never writes an unconsidered word…In fact, what makes Ford's new book particularly remarkable must be how little happens in it--and how little we miss the usual Sturm und Drang of plot or fast-paced action… we are happy just to listen to him ruminate." — New York Review of Books
"Fans of the profoundly introspective Bascombe and the dirty realism of his middle-class existence have been rewarded by this unforeseen encore to the trilogy that began with 1986's The Sportswriter." — The Oregonian (Portland)
Ford's style has often been referred to by critics as 'dirty realism,' … but the truth, at least in this new book, is that Frank's world isn't gritty, and the nonjudgmental awareness of his voice gives even his smallest encounters a surrealistic pseudo-omniscience." — The Rumpus.com
"[This book] delivers what it promises: a quartet of fresh, though brief, glimpses of a beloved character... no outsized revelations, only small, smart realizations of the pain, absurdity and tenderness of contemporary life in the U.S., after the tide has come crashing in." — Palo Alto Weekly
"Like John Updike's Rabbit series, Richard Ford's four Frank Bascombe books have been one of the finest journeys in American letters, traveling through three decades' worth of American life since the drifting highways of his 1986 novel The Sportswriter." — Willamette Weekly
"Remarkably, Ford is a serious novelist whose work has been compared to the writings of John Updike, William Faulkner and Ernest Hemingway, and yet he is also capable of prose that is laugh-out-loud funny." — Jewish Journal of LA
"In four linked stories, Ford's aging Everyman surveys life after Hurricane Sandy batters New -Jersey." — New York Times Book Review, Notable Book
"Told as a collection of longer short stories, Bascombe is grumpy, existential and searching for comfort amid a host of physical and mental maladies… if you're an established fan of the Bascombe tales, it'll surely be something to add to the Christmas vacation reading list." — KQED (NPR SF), The Do List
"After a trilogy of Frank Bascombe novels spanning nearly 30 years, this latest book is four linked narratives. Now 68, Bascombe assesses his losses, including the Jersey Shore damage wrought by Hurricane Sandy." — St. Louis Post-Dispatch, Best Books of 2014
"Bascombe again is portrayed as a thoughtful, ruminative man, now retired from the real-estate business. In the four novellas... the character not only confronts, but embraces his mortality in 'anticipation of the final, thrilling dips of the roller coaster.'" — Pittsburg Tribune-Review
"Few characters in American literature have proven as durable or as interesting as Richard Ford's long-running hero, Frank Bascombe... [Frank's] insights are as trenchant as ever, but he seems funnier, looser, kinder somehow." — Baton Rouge Advocate
"In the conversational and highly digressive voice that's become so familiar to readers over the years, Frank-aged 68, now comfortably retired and living in upscale Haddam, New Jersey-takes each day as it comes, and still finds plenty to remark upon." — Highbrow Magazine
"Frank Bascombe, who made his first appearance in The Sportswriter in 1986, returns in his fourth novel, and there are abundant reasons to be grateful." — San Francisco Chronicle, Best of 2014: 100 Recommended Books
"Mortality and the wounded human condition underscore this novel about the legacy of Hurricane Sandy in New Jersey in 2012. Beautifully written, nuanced and perceptive. Frank Bascombe's 68 and contemplating his usefulness and fate in the wreckage that surrounds him." — Providence Journal
"For those of you who may have missed Frank Bascombe, Richard Ford's frequent protagonist, snag Let Me Be Frank With You, one of the surprises of the season by the MSU graduate and Pulitzer Prize winner who can be both funny and profound in the same sentence." — Lansing City Pulse
"It's altogether a joy to read, with Ford leavening the melancholy of loss (from age, and from the devastation of nature) with an ever-present humor." — Detroit News
"Regardless of its somewhat funereal context, Let Me Be Frank With You contains many moments of levity...This comic mockery tempers but does not overwhelm the book's essential seriousness...Frank must put his gently dogged optimism up against the fact of life's persistent sorrow, indignity, and misfortune." — Knoxville Times
"The four stories in Let Me Be Frank With You find Frank in autumnal but wry spirits… His observations remain gently cutting." — Dallas Morning News
"This beautifully written book explores human connections, at times politics, race and religion, and persists in trying to fathom our infinitely puzzling and fragmented selves. It's splendid." — Providence Journal
Ecco, 9780061692062, 256pp.
Publication Date: November 4, 2014
About the Author
Richard Ford is the author of The Sportswriter; Independence Day, winner of the Pulitzer Prize and the PEN/Faulkner Award; The Lay of the Land; and the New York Times bestseller Canada. His short story collections include the bestseller Let Me Be Frank With You, Sorry for Your Trouble, Rock Springs and A Multitude of Sins, which contain many widely anthologized stories. He lives in New Orleans with his wife Kristina Ford.
Coverage from NPR
or
Not Currently Available for Direct Purchase