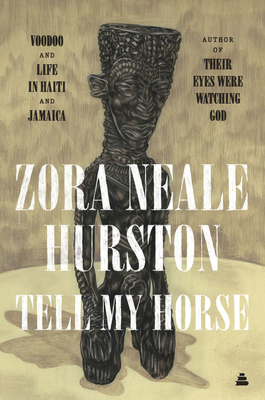 Tell My Horse
Voodoo and Life in Haiti and Jamaica
Paperback

* Individual store prices may vary.
Description
"Strikingly dramatic, yet simple and unrestrained . . . an unusual and intensely interesting book richly packed with strange information."
—New York Times Book Review
Based on Zora Neale Hurston's personal experiences in Haiti and Jamaica, where she participated as an initiate rather than just an observer of voodoo practices during her visits in the 1930s, this travelogue into a dark world paints a vividly authentic picture of the ceremonies, customs, and superstitions of voodoo.
Amistad, 9780061695131, 336pp.
Publication Date: December 30, 2008
About the Author
Zora Neale Hurston was a novelist, folklorist, and anthropologist. She wrote four novels (Jonah's Gourd Vine, 1934; Their Eyes Were Watching God, 1937; Moses, Man of the Mountain, 1939; and Seraph on the Suwanee, 1948); two books of folklore (Mules and Men, 1935, and Tell My Horse, 1938); an autobiography (Dust Tracks on a Road, 1942); an international bestselling nonfiction work (Barracoon: The Story of the Last "Black Cargo," 2018); and over fifty short stories, essays, and plays. She attended Howard University, Barnard College, and Columbia University and was a graduate of Barnard College in 1928. She was born on January 7, 1891, in Notasulga, Alabama, and grew up in Eatonville, Florida.