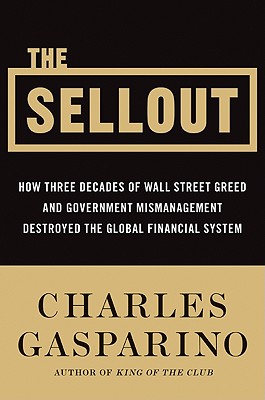 The Sellout: How Three Decades of Wall Street Greed and Government Mismanagement Destroyed the Global Financial System (Hardcover)
How Three Decades of Wall Street Greed and Government Mismanagement Destroyed the Global Financial System
HarperBusiness, 9780061697166, 553pp.
Publication Date: November 1, 2009
* Individual store prices may vary.
or
Not Currently Available for Direct Purchase
Description
In the spirit of Barbarians at the Gate and Liar's Poker comes The Sellout, the definitive book on the recent collapse of Wall Street, one of the most dramatic and anxiety-ridden era in national socioeconomic history. In this powerful business narrative, Charles Gasparino, the author of Blood on the Floor and King of the Club, captures how avarice, arrogance, and sheer stupidity eroded Wall Street's dominance, made many of our country's most fabled financial institutions vulnerable to significant new foreign control, and profoundly weakened the financial security of millions of poor and middle-class American families.
Praise For The Sellout: How Three Decades of Wall Street Greed and Government Mismanagement Destroyed the Global Financial System…
"[A] splendid account of the financial meltdown."
-Wall Street Journal

The most comprehensive anecdotal account to date of the crisis.... Gasparino cuts his way through Wall Street rhetoric and in the process uncovers in considerable detail how blind profit-making ambition led to the destruction of the markets.
-New York Review of Books

"Gasparino has consistently broken news on some of the biggest financial scandals of recent years, including the fall of Martha Stewart, Henry Blodget, and Jack Grubman. As anyone who reads the business pages knows, Charlie is one of the best reporters in the field."
-Mark Whitaker, former editor, Newsweek

"Gasparino describes, in page-turning detail, a Wall Street world of ruthless financial titans.… No collection of courtroom documents will ever tell the story…as well as Mr. Gasparino does."
-Wall Street Journal, on King of the Club

"A tough outsider willing to go to battle with anyone--colleague or contact-in pursuit of the story."
-Financial Times

"An especially aggressive reporter."
-Vanity Fair

"Gasparino is credited with breaking some of the more titillating tales of Wall Street misconduct."
-New York Post

"Born in the Bronx to a construction worker and a housewife, Gasparino has risen from his working-class roots to become one of the most influential business reporters at work today."
-PR Week

"Charles Gasparino sees the guts of Wall Street and the wreckage it leaves behind, day in and day out."
-San Antonio Express-News
Advertisement