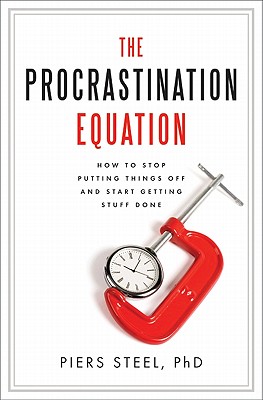 The Procrastination Equation (Hardcover)
How to Stop Putting Things Off and Start Getting Stuff Done
Harper, 9780061703614, 320pp.
Publication Date: December 28, 2010
* Individual store prices may vary.
Description
"The Procrastination Equation will teach you how to bust the excuses that are preventing you from doing your best work and living your best life….So don't put it off any longer. Read this book. Today."
 —Daniel H. Pink, author of Drive and A Whole New Mind
"Illuminating….Piers Steel shows us the secrets of procrastination, how it affects us and how we will, one day, be able to prevail."
—Dan Ariely, author of The Upside of Irrationality and Predictably Irrational
Using a mix of psychology, evolutionary biology, self-help, and more than a decade of research, Dr. Piers Steel, the world's foremost authority on procrastination, offers a tried and true method helping us to identify, understand, and break free of our self-destructive bad habits and create more positive lives for ourselves.

About the Author
Piers Steel, PhD, one of the world's foremost researchers and speakers on the science of motivation and procrastination, is the winner of the Killam Emerging Research Leader Award. Dr. Steel's research has appeared in numerous outlets around the world, ranging from Psychology Today and New Scientist to Good Housekeeping and The New Yorker. He lives in Calgary, Alberta, with his wife and two sons.
Praise For The Procrastination Equation: How to Stop Putting Things Off and Start Getting Stuff Done…
"The Procrastination Equation is this season's must-read self-help book. In addition to offering useful strategies to fight a common problem, it's a fascinating read."
— Montreal Gazette

"An upbeat, motivational guide to procrastination. . . . Everything you ever wanted to know about procrastination but never got around to reading."
— Kirkus Reviews

"Why you 'put off till tomorrow what you can do today' forms the crux of Steel's book, in which he not only answers that question but details specific techniques to reign in the impulse. . . . Offers good advice."
— Library Journal

"Procrastinating just makes unpleasant tasks worse, so why is it so hard for us to resist dithering and delay? The Procrastination Equation is crammed with surprising insights about procrastination and human nature -- as well as concrete, helpful solutions for fighting procrastination."
— Gretchen Rubin, author of The Happiness Project

"Procrastination is the saffron spice of human behavior, where even small amounts of this tendency can shatter the best of intentions. In this illuminating book Piers Steel shows us the secrets of procrastination, how it affects us and how we will, one day, be able to prevail."
— Dan Ariely, author of The Upside of Irrationality and Predictably Irrational

"The Procrastination Equation will teach you how to bust the excuses that are preventing you from doing your best work and living your best life. . . . So don't put it off any longer. Read this book. Today."
— Daniel H. Pink, author of Drive and A Whole New Mind

"I put off writing this blurb 'til the last minute. I thought it was because I was too busy but after reading The Procrastination Equation, I know the real reasons. Piers Steel will help you tackle the goals . . . that always seemed . . . out of reach."
— Richard Florida, author of The Great Reset

"A useful, eye-opening book."
— Booklist
or
Not Currently Available for Direct Purchase