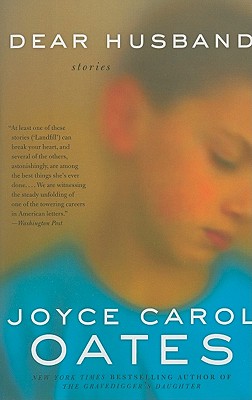 Dear Husband: Stories (Paperback)
Stories
Ecco Press, 9780061704321, 326pp.
Publication Date: April 6, 2010
Description
Replete with the emotional intensity and pathos for which Joyce Carol Oates is lauded, these fourteen stories explore the intimate lives of contemporary American families: the tangled relationship between generations, the desperation of loving more than one is loved in return. In "Cutty Sark" and "Landfill," the bond between adolescent son and mother reverberates with the force of an unspoken passion. The gripping title story finds Oates boldly reimagining the true-crime story of Andrea Yates, the Texas mother who drowned her children in 2001. Several stories offer a more lighthearted reprieve, examining with dark humor the shadowy intersection between self-awareness and delusion.
Praise For Dear Husband: Stories…
"Savage, poetic and ruthless...[Oates's] touch has never been surer, her insights never more piercing....several of the [stories], astonishingly, are among the best things she's ever done...we are witnessing the steady unfolding of one of the towering careers in American letters."
-Washington Post

"Oates's stories have a certain doomed poignancy . . . if there's a moral here, it's the anything-can-happen wisdom of what Oates calls 'brutal and horrific' fairy tales."
-New York Times Book Review

"America simmers in the writings of Joyce Carol Oates, going through the motions of everyday life as best it can, but prone to boiling over at any moment. Oates... has once again held a haunting mirror up to America, revealing who we are."
-Boston Globe

"Oates explores incest, death by fitness center, accidental death; it's not light reading, but twined into these human tragedies are bits and pieces found in all our lives."
-Philadelphia City Paper

"Although nearly all 14 stories have been published elsewhere, they merit a book of their own. Admirers of Oates' literary fiction will find this collection a transcendent read. Dear Husband is likely to win Oates new fans as well. Oates' characters are masterfully rendered."
-Associated Press

"The family ties that bind (and choke) are the overarching theme of Oates's grim but incisive collection…Oates seamlessly enters the minds of disparate characters to find both the exalted and depraved aspects of real American families."
-Publishers Weekly (Lead fiction review)

"Admirers of Oates' literary fiction will find this collection a transcendent read. "Dear Husband" is likely to win Oates new fans as well. Oates' characters are masterfully rendered, but she is particularly gifted at creating a certain type: The appallingly egocentric, sometimes to the point of unwitting hostility."
-Boston Herald
Advertisement