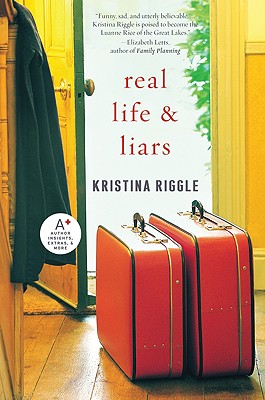 Real Life & Liars
Paperback

* Individual store prices may vary.
Description
Sometimes you find happiness where, and when, you least expect it.
For Mirabelle Zielinski's children, happiness always seems to be just out of reach. Her polished oldest daughter, Katya, clings to a stale marriage with a workaholic husband and three spoiled children. Her son, Ivan, so creative, is a down-in-the-dumps songwriter with the worst taste in women. And the "baby," impulsive Irina, who lives life on a whim, is now reluctantly pregnant and hitched to a man who is twice her age. On the weekend of their parents' anniversary party, lies will be revealed, hearts will be broken...but love will also be found. And the biggest shock may come from Mirabelle herself, because she has a secret that will change everything.
Praise For Real Life & Liars…
Riggle crafts a moving and accomplished first novel about a family coming to terms with change. — Booklist
"A seemingly celebratory gathering brings joy, frustration, love and disappointment to a midwestern family in this wonderful debut novel. These are characters we know and care about from our own lives." — Denise Taylor, manager, Schuler Books and Music
In her wondrously affecting debut novel REAL LIFE AND LIARS, Kristina Riggle accomplished something authors almost never do anymore: she made me care about her characters - and what a wide-ranging cast of characters they are! She made me want good things for them. A must-read for summer 2009. — Lauren Baratz-Logsted, author of Baby Needs a New Pair of Shoes
"Real Life and Liars depicts a family gathering with forensic precision: we see the characters raw in front of us. But Kristina Riggle's moving and well-executed novel also embraces human fraility and serves up family complexities like a celebration buffet." — Eliza Graham, author of Restitution and Playing with the Moon
"Written with grace, passion, and insight, REAL LIFE AND LIARS is a deeply felt novel that draws a vivid portrait of a family in transition, and examines the very real fear of leaving behind all you hold dear." — Maggie Dana, author of BEACHCOMBING
William Morrow Paperbacks, 9780061706288, 352pp.
Publication Date: June 16, 2009
About the Author
Kristina Riggle is a published short story writer and coeditor for fiction at the e-zine Literary Mama. She lives in Grand Rapids, Michigan, with her husband, two kids, and dog.
Does Mira's reluctance to have surgery for her breast cancer seem understandable? What other reasons might she have for this reluctance beyond what she shares directly with the reader in the opening chapter?
Which significant life changes are facing Mira, and how might those changes be affecting her state of mind regarding the cancer diagnosis?
How would you describe the relationship of Mira to each of her children? How do these relationships affect the plot of the novel?
How do you react to Mira's marijuana use? How much does it affect her decision-making throughout the book?
How would you describe the marriage of Mira and Max? How do you think their relationship play into her reaction to her cancer diagnosis?
How does birth order affect the three grown siblings and how they fit into the family?
Which main character – Mira, Katya, Ivan or Irina – do you find most relatable? What parallels can you draw to your own life?
Mira observes in the book that children grow up any way they want to, despite a parent's best efforts. Do you agree with this?
Why does Katya find herself driving by her old boyfriend's house and calling him secretly? Have you ever felt drawn to a romance from your past?
What is the source of the friction between Mira and Katya, and does it seem justified to you? Do you have old childhood fights with your parents that still echo in your adulthood?
Do you think Katya and Charles's marriage will endure? Do you think Katya will truly change her life? If so, in what ways?
Do you agree with Katya's decision to stay with Charles? How else might she have reacted?
Why is Ivan so clueless about romance?
Do you think Jenny and Ivan have a future together? Why or why not?
Why do you think Irina engages in reckless romantic behavior?
What do you think Irina should do about Darius and the baby?
Do you believe Mira will change her mind about the surgery when she sees the doctor again? Why or why not?
What is the role the Big Tree serves in the novel?
How does Mira's lack of formalized religion play into the story? Do you believe her view has changed by the end?
How does the setting affect each of the characters?
Do you think the Zielinskis are a happy family at the beginning? How about at the end of the novel?