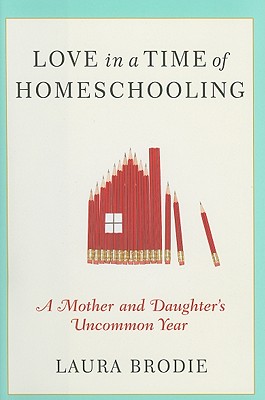 Love in a Time of Homeschooling (Hardcover)
A Mother and Daughter's Uncommon Year
Harper, 9780061706462, 272pp.
Publication Date: April 6, 2010
* Individual store prices may vary.
Description
"In a world where 'homeschooling' is so often misunderstood, discounted, and even ridiculed, Laura Brodie offers a clear-eyed view and makes a valuable contribution to the literature on the subject. This is necessary reading for anyone with an interest not just in homeschooling but in education generally."
— David Guterson
"As a parent involved in homeschooling, I highly recommend this book. It's timely, beautifully written, and must reading for anyone who has ever wondered what homeschooling is all about."
— James Grippando, author of Money to Burn
Humorous and heartfelt, this charming memoir tells of a year-long experiment in homeschooling in which the author decides to give her ten-year-old daughter a sabbatical from homework hell and the vicissitudes of one-size fits all traditional public school days.
About the Author
Laura Brodie is the author of Breaking Out: VMI and the Coming of Women and the novel The Widow's Season. She lives in Lexington, Virginia, with her husband and three daughters, and teaches English at Washington and Lee University.
Praise For Love in a Time of Homeschooling: A Mother and Daughter's Uncommon Year…
"Engaging, unpredictable. . . . No rosy manifesto to homeschooling, nor a condemnation, but a real-life encounter, full of stormy battles, power struggles and, most of all, passion. There are moments of pedagogic beauty. . . . Graceful and charming."
— Kirkus Reviews

"In a world where homeschooling is so often misunderstood, discounted, and even ridiculed, Laura Brodie offers a clear-eyed view and makes a valuable contribution to the literature on the subject. This is necessary reading for anyone with an interest not just in homeschooling but in education generally."
— David Guterson, author of The Other and Family Matters: Why Homeschooling Makes Sense

"Funny, heart-cracking and ultimately profoundly educational. I recommend this book to all parents and educators who have ever thought-I wish things could be different."
— Mary Pipher, author of Seeking Peace: Chronicles of the Worst Buddhist in the World

"Laura Brodie shines a spotlight on love as an essential ingredient [in homeschooling], creating a well-earned space on all homeschoolers' bookshelves and, optimistically, on the bookshelves of all parents."
— Linda Dobson, author of The Ultimate Book of Homeschooling Ideas

"Love in a Time of Homeschooling, a touching glimpse into a mother-daughter relationship, will inspire you to foster a love of learning no matter what your schooling choice may be."
— Richard Louv, author of Last Child in the Woods: Saving Our Children from Nature-Deficit Disorder

"The only thing worse than sending your child off on a bus each morning might be keeping that child at home. But Brodie manages the feat with wit, wisdom, love, and some hard knocks along the way. Her story gives hope that there is more to life than long division."
— Cameron Stracher, author of Dinner with Dad

"As a parent involved in homeschooling, I highly recommend this book. It's timely, beautifully written, and must reading for anyone who has ever wondered what homeschooling is all about-and it would make a great gift for all your friends who think they know!"
— James Grippando, author of Money to Burn
or
Not Currently Available for Direct Purchase