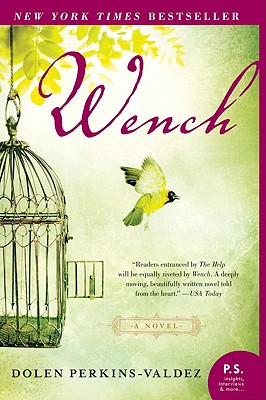 Wench (Paperback)
A Novel
Amistad, 9780061706561, 320pp.
Publication Date: January 25, 2011
Other Editions of This Title:
Digital Audiobook (3/29/2010)
Paperback (10/10/2017)
Hardcover (1/5/2010)
Hardcover, Large Print, Large Print (11/1/2010)
* Individual store prices may vary.
Description
Wench by Dolen Perkins-Valdez is startling and original fiction that raises provocative questions of power and freedom, love and dependence. An enchanting and unforgettable novel based on little-known fact, Wench combines the narrative allure of Cane River by Lalita Tademy and the moral complexities of Edward P. Jones's The Known World as it tells the story of four black enslaved women in the years preceding the Civil War. A stunning debut novel, Wench marks author Perkins-Valdez—previously a finalist for the 2009 Robert Olen Butler Short Fiction Prize—as a writer destined for greatness.
About the Author
Dolen Perkins-Valdez is the author of the New York Times bestselling novel Wench. In 2011 she was a finalist for two NAACP Image Awards and the Hurston-Wright Legacy Award for fiction. She was also awarded the First Novelist Award by the Black Caucus of the American Library Association. She lives in Washington, D.C. @Dolen / dolenperkinsvaldez.com
Praise For Wench: A Novel…
"[E]lectrifying. . . . [T]his remarkable novel skillfully dramatizes a dark chapter in American history. Writing with lyrical grace and a gift for plot development, Perkins-Valdez has produced an inspiring portrait of four brave women and the risks they take to change their lives."
— BookPage

"[A] fascinating and tragic story. . . . [A] compulsive read."
— NPR.org, Book Club Pick

"[A] memorable and engaging debut."
— Library Journal, Best Books of 2010

"A heartbreaker, full of understated tragedy and lyrical prose. . . . Perkins-Valdez has woven a devastatingly beautiful account of a cruel past."
— People

"Perkins-Valdez manages to shed a poetic light on one of the ugliest chapters in American history."
— Essence

"Readers entranced by The Help will be equally riveted by Wench. A deeply moving, beautifully written novel told from the heart."
— USA Today

"A fabulously creative and daring historical novel ."
— Dawn Turner Trice, Chicago Tribune

"Perkins-Valdez memorably portrays how the entwined destinies of chattel and master, increasingly related by blood, passion and hatred, prefigure the looming national conflict. This is an almost forgotten, but important, chapter in American history--recorded as fiction but nonetheless full of hard facts."
— Town & Country

"A mesmerizing read."
— Seattle Times

"Absolutely phenomenal. . . . Wench is an excellent novel that will appeal to many readers. Debut author Dolen Perkins-Valdez has crafted a historical narrative that shouldn't be missed."
— Sacramento Book Review

"A powerful story."
— Sequim Gazette

"Dolen Perkins-Valdez's debut novel, Wench, is outstanding: well crafted, imaginative, spellbinding, and above all satisfying."
— World Literature Today

"Impressive. . . . There are countless stories to be told and to be read regarding the lingering emotional impact of slavery; and here, Perkins-Valdez has imagined a memorable one, her characters are framed within a well-crafted and expressive narrative."
— The Network Journal

"In her debut, Perkins-Valdez eloquently plunges into a dark period of American history. . . . Heart-wrenching, intriguing, original and suspenseful, this novel showcases Perkins-Valdez's ability to bring the unfortunate past to life."
— Publishers Weekly

"A striking debut intimately limns a Southern slave's complicated relationship with her master. . . . Compelling and unsentimental."
— Kirkus Reviews

"[A] memorable first novel . . . Readers of historical fiction centering on Southern women's stories like Lalita Tademy's Cane River or Lee Smith's On Agate Hill will be moved by the skillful portrayal of Lizzie's precarious situation and the tragic stories of her fellow slaves."
— Library Journal (starred review)

"Drawing on research about the resort that eventually became the first black college, Wilberforce University, the novel explores the complexities of relationships in slavery and the abiding comfort of women's friendships."
— Booklist

"A finely wrought story that explores the emotional lives of four slave women caught in the web of the Peculiar Institution."
— Lalita Tademy, author of Cane River and Red River

"This elegantly-structured novel sheds much-needed light on the racial intricacies of America's past."
— Margaret Cezair-Thompson, author of The Pirate's Daughter (a #1 Indie Next Pick)

"Through unforgettable characters and luscious prose, Wench stares down the difficult truths while never losing its beautiful beating heart. With all the weight of a historical excavation and the urgency of a page-turner, Perkins-Valdez establishes herself as a powerful new voice in fiction. "
— Tayari Jones, author of Leaving Atlanta and The Untelling

"A shattering story told with dignity, compassion, and some wicked humor. A brave, honest, beautifully written book that will shock and move readers to much new awareness."
— Sigrid Nunez, author of The Last of Her Kind and A Feather on the Breath of God

"Perkins-Valdez crawls under your skin and probes most gracefully in clear, concise lyric prose, ultimately asking the question that only extraordinary fiction can ask--what would you have done? A superb and outstanding achievement."
— Jeffrey Lent, author of In the Fall and A Peculiar Grace
Lizzie is a house slave. How does this position differ from working in the fields? How does this status affect her day-to-day existence? What impact does it have for her children?
Unlike many slaves, Lizzie learned to read. Why did Drayle teach her? What does this ability offer her? Does her ability influence the other slaves she lived with?
When Mawu asks Lizzie about Drayle, Lizzie hears the question, "Is he good to you?" Later she comes to understand that Mawu wanted to know, "Is he God to you?" How would you answer both questions? How do these questions relate to one another in the context of Lizzie's life?
Lizzie claims that she loves Drayle. Does she? Does he love her? How would you describe their bond? Can love truly exist when there is such an imbalance of power between two people? What about Drayle and his wife, Fran? Talk about their marriage and compare it to the relationship between Lizzie and Drayle.
How would you describe Drayle? What kind of a slave owner is he? What does Lizzie mean to Drayle? How does he treat her? How does he treat their children? Lizzie begs Drayle to free their son and daughter. Why won't he?
Describe the relationship between Drayle's wife, Fran, and Lizzie. How do the women view each other? How are their positions similar?
When Drayle receives an offer to sell Phillip he refuses. Why? What eventually makes him change his mind? What does Lizzie think about Phillip's chance at freedom? Why does she refuse to help him when she is first asked—and what changes her mind?
Compare and contrast the four women at the heart of the novel: Lizzie, Mawu, Sweet, and Reenie. Though they are all slaves, are their experiences the same? What accounts for any differences?
How did Lizzie feel about going to Tawawa? What did the resort offer her that her life in Tennessee did not? How do her experiences at the resort change her over the course of the summers she is there?
What was Lizzie's opinion of Mawu when she first met her? Describe the arc of their relationship. What events changed they way they saw each other?
Describe the women's white masters. What are their relationships like with their slaves? Do these relationships offer any benefits to the women? Are these women entirely powerless? If not, what power do they have?
Why does Lizzie tell Drayle about Mawu's plan to escape? Is she surprised by Mawu's punishment? Why doesn't Mawu hate Lizzie for what she did? When Mawu finally escapes, she stays behind, waiting for Lizzie? Why does she risk herself for Lizzie? What do they all see in Lizzie—why is she special?
Tawawa was very near to where free colored folk also vacationed, a place called Lewis House. What do the slaves think of Lewis House? Why didn't more slaves try to escape when freedom was so near? Why do you think the Northern whites who also summered at Tawawa didn't help them find freedom?
What role does the white woman, Glory, play in the novel? When they first meet her, they are startled by her behavior. "These slaves had been around Northern whites long enough to recognize one who didn't understand the rules." Why doesn't Glory seem to "understand the rules?" How does meeting her influence the slaves, especially Lizzie?
Many events happen during Lizzie's visits to Ohio, from the discovery of the abolitionist pamphlet to the trip to Dayton to meeting Glory and Phillip's fiancé. Talk about the significance of each and explain how they shaped Lizzie's outlook about her life and herself. How does she change by the novel's end? What about the other characters?
What does freedom mean to you? What does it mean to Lizzie and the other slaves?
Lizzie lived a life defined by indignity and degradation. How did she cope and overcome her pain?
After Sweet learns that all of her children have died from cholera, she tells her friends that she wants to die. Is death better than a life in chains?
Discuss the evils of slavery. How does it degrade the soul of both the enslaved and their masters?
Unlike the characters in the story, you, the reader, know that the Civil War will occur in less than a decade. How does the knowledge shape your experience reading the story? Does it give you hope for Lizzie and her children?
What did you learn from reading Wench? What affected you most about the story?