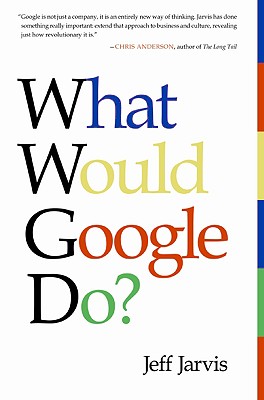 What Would Google Do?
Hardcover

* Individual store prices may vary.
Other Editions of This Title:
Digital Audiobook (1/26/2009)
Paperback, Large Print (2/17/2009)
Compact Disc (7/27/2021)
Paperback (9/20/2011)
MP3 CD (7/27/2021)
Description
"Eye-opening, thought-provoking, and enlightening."
—USA Today
"An indispensable guide to the business logic of the networked era."
—Clay Shirky, author of Here Comes Everybody
"A stimulating exercise in thinking really, really big."
—San Jose Mercury News
What Would Google Do? is an indispensable manual for survival and success in today's internet-driven marketplace. By "reverse engineering the fastest growing company in the history of the world," author Jeff Jarvis, proprietor of Buzzmachine.com, one of the Web's most widely respected media blogs, offers indispensible strategies for solving the toughest new problems facing businesses today. With a new afterword from the author, What Would Google Do? is the business book that every leader or potential leader in every industry must read.

Praise For What Would Google Do?…
"Google is not just a company, it is an entirely new way of thinking about understanding who we are and what we want. Jarvis has done something really important: extend that approach to business and culture, revealing just how revolutionary it is." — Chris Anderson, Author of The Long Tail Chris Anderson, author of The Long Tail
"What Would Google Do? is an exceptional book that captures the massive changes the internet is effecting in our culture, in marketing, and in advertising." — Craig Newmark, Founder of craigslist
"Jeff Jarvis has written an indispensable guide to the business logic of the networked era, because he sees the opportunities in giving the people control, and understands the risks in letting your competitors get there first." — Clay Shirky, Author of Here Comes Everybody
"Jeff Jarvis's What Would Google Do? is a divining rod for anyone looking for ways to hit real paydirt in the new territory of Web 2.0 marketing. Jarvis has a sharp eye for what is relevant, real, and actionable. Isn't that what we all need today?" — Marc Benioff, Chairman and CEO, salesforce.com
"Most of Jarvis's points—about customer influence, user-driven innovation, the death of middlemen—are by now axiomatic. And yet he manages to make the revolution feel newly revolutionary. . . . the book exudes credibility." — Inc.
"[Jarvis's] bold thinking and prodigious faith results in a rollicking sermon on reinvention and reinvigoration." — Miami Herald
"[Jarvis] is an intelligent observer of technology and the media and has intellectual scruples.... [T]here are lessons to be learnt from Google and its single-minded determination to change how business is done." — Financial Times
"Jarvis, proprietor of the influential media blog BuzzMachine, gleans maxims from Google's successful strategies that occasionally sound like doublespeak (Free is a business model! Abundance is the new scarcity! Correcting yourself enhances credibility!). But they boil down to practical suggestions." — Time magazine
"Blogger/columnist Jeff Jarvis's treatise on how—and why—companies should think and act like Google brings to mind several trite words from the world of literary criticism: eye-opening, thought-provoking and enlightening." — USA Today
"[Jarvis's] observations are worth reading....We're never going to unplug the Internet, so read this book with the long view in mind. Mr. Jarvis's rules don't all apply to you, but they're all true enough for someone" — Wall Street Journal
"For those who haven't thought much about how radically, rapidly and irreversibly the Internet has empowered us and changed our culture, "What Would Google Do?" by Jeff Jarvis will be revelatory. It is a stimulating exercise in thinking really, really big. " — San Jose Mercury News
Harper Business, 9780061709715, 272pp.
Publication Date: January 27, 2009
About the Author
Jeff Jarvis is the proprietor of one of the web's most popular and respected blogs about media, Buzzmachine.com. He heads the Tow-Knight Center for Entrepreneurial Journalism at the City University of New York. He was named one of a hundred worldwide media leaders by the World Economic Forum at Davos in 2007–11 and was the creator and founding editor of Entertainment Weekly magazine. He is the author of the forthcoming book Public Parts: How Sharing in the Digital Age Improves the Way We Work and Live.
or
Not Currently Available for Direct Purchase