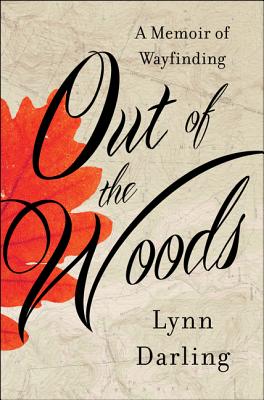 Out of the Woods
A Memoir of Wayfinding
Hardcover

* Individual store prices may vary.
Other Editions of This Title:
Paperback (1/20/2015)
Description
Combining the soul-baring insight of Wild, the profound wisdom of Shop Class as Soulcraft, and the adventurous spirit of Eat, Pray, Love: Lynn Darling's powerful, lyrical memoir of self-discovery, full of warmth and wry humor, Out of the Woods.
When her college-bound daughter leaves home, Lynn Darling, widowed over a decade earlier, finds herself alone—and utterly lost, with no idea of what she wants or even who she is. Searching for answers, she leaves New York for the solitary woods of Vermont. Removed from the familiar, cocooned in the natural world, her only companions a new dog and a compass, she hopes to develop a sense of direction—both in the woods and in her life.
Hiking unmapped trails, Darling meditates on the milestones of her past; as she adapts to her new surroundings, she uses the knowledge she's gained to chart her future. And when an unexpected setback nearly derails her newfound balance, she is able to draw upon her newfound skills to find her bearings and stay the course.
In revealing how one woman learned to navigate—literally and metaphorically—the uneven course of life, Out of the Woods is, in the words of Pulitzer-prize winning author Geraldine Brooks,  "a marvelous book . . . both a compass and a manifesto for navigating the often-treacherous switchbacks of the second half of life." 
Praise For Out of the Woods: A Memoir of Wayfinding…
"A thought-provoking, poignant and often refreshingly funny book….It is a pleasure to spend time with Darling's fine writing, thoughtful reflection and perhaps a more trustworthy sense of direction than she is willing to claim."
— Reeve Lindbergh, Washington Post

"There have been many accounts of conquering nature and disease. But Darling melds her extreme adventures in the woods and in the doctor's treatment room with brilliance and poetry….Wonderful."
— Judy Bolton-Fasman, Boston Globe

"Darling is a dazzling writer, able to capture the image of 'an apple blushing on the scraggly tree' or the lingering grief of her husband's death with a beautiful, sometimes tender, immediacy….The heft of this story is in her intelligent questioning of her past and future….Fascinating."
— Leigh Newman, New York Times Book Review

"Like Pilgrim at Tinker Creek, but by a writer who has had a lot more tread scorched off her tires than the young and idealistic Dillard; both a compass and a manifesto for navigating the often-treacherous switchbacks of the second half of life. A marvelous book."
— Geraldine Brooks, Pulitzer Prize-winning author of March and Caleb's Crossing

"What do we do when life unfolds in unexpected ways--which is to say, when life unfolds, full stop? We cave, or we persevere. We grow rigid and numb, or, like the inimitable Lynn Darling, we come to know ourselves, with courage and a beautiful, stumbling grace."
— Dani Shapiro, author of Devotion

"Lynn Darling is a compelling character, smart and irreverent and earnest in her effort to find her way into the future. In beautiful and surprising prose, Darling invites us to wander with her as she circles and roams and ultimately claims her own destiny."
— Meredith Hall, author of Without a Map: A Memoir

"Striking in its intelligence and imagery…Darling's personal version of Dante's dark night of the soul will resonate with many empty nesters, especially women….A compelling story of internal exploration, as well as outward-bound adventure that owes something to Henry David Thoreau and Virginia Woolf."
— Maureen Corrigan, NPR's Fresh Air

"A graceful, intensely personal coming-of-middle-age story….Like the megaselling memoirs by Cheryl Strayed and Elizabeth Gilbert, it lays out a concrete, mappable-albeit open-ended-plan for self-betterment through travel and discovery."
— Elle

"Darling has written a fierce and forthright chronicle of one formidable woman's courageous journey of healing and revelation, gratitude and resilience."
— Booklist

"This wry, intimate, deeply courageous memoir will speak to any woman who has rounded the corner into the afternoon of life, only to find herself pausing to wonder, Which way now? Lynn Darling was lucky enough to get utterly lost, and then brave enough to chart her own course home."
— Katrina Kenison, author of Magical Journey: An Apprenticeship in Contentment

"Lynn Darling is everything I love in a writer: smart, honest, gimlet-eyed. Every sentence worth its weight. You'll find no easy answers in this memoir of finding one's way out of grief and loss and illness; instead, a trustworthy guide, a true compass."
— Nora Gallagher, author of Moonlight Sonata at the Mayo Clinic

"Darling's memoir navigates the geography of loss with a fresh, lush beauty….This is really a book about solitude, with Darling's ironic wit (often directed at herself) cutting a sharp path through the wandering richness of melancholy."
— More Magazine

"Fans of Wild and Eat, Pray, Love will relish seeing Darling find her footing."
— Fitness Magazine
Harper, 9780061710247, 288pp.
Publication Date: January 7, 2014
About the Author
Lynn Darling is the author of Necessary Sins. Her work has appeared in the Washington Post, Esquire, Harper's Bazaar, and Elle, among other publications. She lives in New York City.
Coverage from NPR
or
Not Currently Available for Direct Purchase