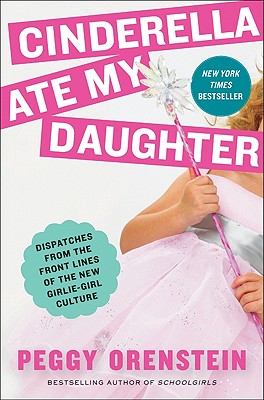 Cinderella Ate My Daughter
Dispatches from the Front Lines of the New Girlie-Girl Culture
Hardcover

* Individual store prices may vary.
Other Editions of This Title:
Digital Audiobook (6/11/2012)
Paperback (1/31/2012)
Description
Peggy Orenstein, acclaimed author of the groundbreaking New York Times bestsellers Girls & Sex and Schoolgirls, offers a radical, timely wake-up call for parents, revealing the dark side of a pretty and pink culture confronting girls at every turn as they grow into adults.
Sweet and sassy or predatory and hardened, sexualized girlhood influences our daughters from infancy onward, telling them that how a girl looks matters more than who she is. Somewhere between the exhilarating rise of Girl Power in the 1990s and today, the pursuit of physical perfection has been recast as the source of female empowerment. And commercialization has spread the message faster and farther, reaching girls at ever-younger ages. But how dangerous is pink and pretty, anyway? Being a princess is just make-believe; eventually they grow out of it . . . or do they?
In search of answers, Peggy Orenstein visited Disneyland, trolled American Girl Place, and met parents of beauty-pageant preschoolers tricked out like Vegas showgirls. The stakes turn out to be higher than she ever imagined. From premature sexualization to the risk of depression to rising rates of narcissism, the potential negative impact of this new girlie-girl culture is undeniable—yet armed with awareness and recognition, parents can effectively counterbalance its influence in their daughters' lives.
Praise For Cinderella Ate My Daughter: Dispatches from the Front Lines of the New Girlie-Girl Culture…
"Orenstein has played a defining role in giving voice to this generation of girls and women…. At times this book brings tears to your eyes—tears of frustration with today's girl-culture and also of relief because somebody finally gets it—and is speaking out on behalf of our daughters."
— Judith Warner, author of Perfect Madness: Motherhood in the Age of Anxiety

"Reading Cinderella is like hanging out with a straight-talking, hilarious friend; taking a fascinating seminar on 21st century girlhood; and discovering a compendium of wise (but never preachy) advice on raising girls. A must-read for any parent trying to stay sane in a media saturated world."
— Rachel Simmons, author of Odd Girl Out and The Curse of the Good Girl

"I wish I'd had Peggy Orenstein's thought-provoking, wise, and entertaining new book, Cinderella Ate My Daughter, to comfort me and to help me navigate the Pepto Bismol pink aisles of the toy store and the cotton candy pink channels of the TV dial. Every mother needs to read this."
— Ayelet Waldman, author of Bad Mother

"[Peggy Orenstein's] addictively readable book manages, somehow, to be simultaneously warm and chilling"
— Rebecca Traister, author of Big Girls Don't Cry: The Election that Changed Everything for American Women
Harper, 9780061711527, 256pp.
Publication Date: January 25, 2011
About the Author
Peggy Orenstein is the New York Times bestselling author of Boys & Sex, Don't Call Me Princess, Girls & Sex, Cinderella Ate My Daughter, Waiting for Daisy, Flux, and Schoolgirls. A contributing writer for the New York Times Magazine and Afar, she has also been published in New York, The Atlantic, The New Yorker, and other publications. Her TED Talk has received over five million views. She lives in Northern California with her husband and daughter. 
or
Not Currently Available for Direct Purchase