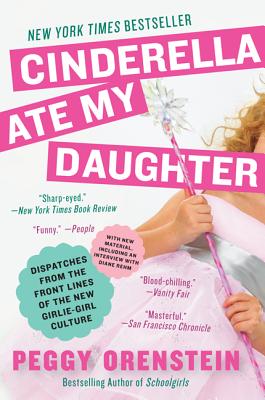 Cinderella Ate My Daughter (Paperback)
Dispatches from the Front Lines of the New Girlie-Girl Culture
Harper Paperbacks, 9780061711534, 272pp.
Publication Date: January 31, 2012
* Individual store prices may vary.
Description
From New York Times bestselling author Peggy Orenstein, now available in paperback—the acclaimed New York Times Magazine contributor and author of the groundbreaking New York Times bestseller Schoolgirls grapples with where to draw the line for our daughters in the new girlie-girl culture.
The rise of the girlie-girl, warns Peggy Orenstein, is no innocent phenomenon. Following her acclaimed books Flux, Schoolgirls, and the provocative New York Times bestseller Waiting for Daisy, Orenstein's Cinderella Ate My Daughter offers a radical, timely wake-up call for parents, revealing the dark side of a pretty and pink culture confronting girls at every turn as they grow into adults.
Praise For Cinderella Ate My Daughter: Dispatches from the Front Lines of the New Girlie-Girl Culture…
"Orenstein has played a defining role in giving voice to this generation of girls and women…. At times this book brings tears to your eyes—tears of frustration with today's girl-culture and also of relief because somebody finally gets it—and is speaking out on behalf of our daughters."

"Reading Cinderella is like hanging out with a straight-talking, hilarious friend; taking a fascinating seminar on 21st century girlhood; and discovering a compendium of wise (but never preachy) advice on raising girls. A must-read for any parent trying to stay sane in a media saturated world."

"I wish I'd had Peggy Orenstein's thought-provoking, wise, and entertaining new book, Cinderella Ate My Daughter, to comfort me and to help me navigate the Pepto Bismol pink aisles of the toy store and the cotton candy pink channels of the TV dial. Every mother needs to read this."

"[Peggy Orenstein's] addictively readable book manages, somehow, to be simultaneously warm and chilling"