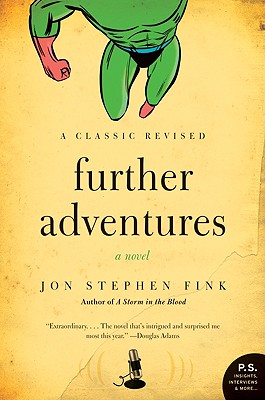 Further Adventures (Paperback)
Harper Perennial, 9780061715433, 336pp.
Publication Date: October 13, 2009
Description
A classic rediscovered: Further Adventures is Jon Stephen Fink's wildly original, uproarious novel of superheroes and survival, now available for the first time in a briefer, tighter, "director's cut." A novel that presaged works like Michael Chabon's The Amazing Adventures of Kavalier & Clay, Further Adventures is the unforgettable story of one man's half-blind but wholehearted attempt to right the wrongs of a society gone astray.
Praise For Further Adventures…
"A stylistic tour de force....engagingly comic, hypnotically seductive...an authentically psychotic monologue [blending] the bombastic strains of superhero fantasia and a familiar streak of ironic Jewish pragmatism....charismatic."
-Madison Smartt Bell, New York Times

"Extraordinary. . . . The novel that's surprised and impressed me most this year."
-Douglas Adams, "Books of the Year," The Guardian (UK)

"Dazzling. . . . never loses [its] light touch. . . . Fink not only faithfully recreates the old world of radio serials, but also brings his naïve main character into the morally ambiguous 1980s and gives him a sad, stubborn dignity."
-Chris Petrakos, Chicago Tribune

"Marvelous. …[its] two plots, past and present, trot in and out of the ring like trick ponies, carrying an impossibly colorful but appealing cast of characters.…The plot is as absurd as it is intricate…it's fun and sad at the same time.
-Terry Bisson, Washington Post

"Impressive. . . . Fink has a fine ear for dialogue [and] Ray Green is a truly original creation."
-Time Out London

"A freewheeling, high-energy tour de force. . . . Breathtaking in its juxtaposition of wisecracks and tragedy, with a veritable Don Quixote running loose in the American Southwest: a distinctive debut."
-Kirkus Reviews (starred review)

"Adventures uses Green's semi-literate style to beautiful effect. . . . Further Adventures is creative, wrenching, even funny—an intelligent look at pop morality taken to its logical extreme."
-James Poniewozic, New York Perspectives
Advertisement