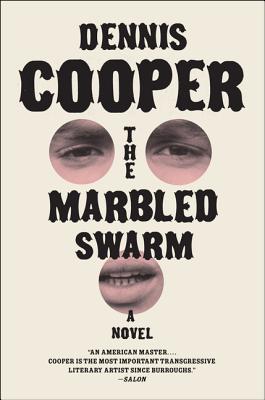 The Marbled Swarm (Paperback)
Harper Perennial, 9780061715631, 208pp.
Publication Date: November 1, 2011
Description
Literary cult hero Dennis Cooper delivers his highlyanticipated new novel. Written in a voice that is lush and intricate, TheMarbled Swarm is Dennis Cooper's most accomplished (and most beguiling)work to date. Cooper tells the story of a man who secretly influences his sonto commit a grisly act. Justin Taylor, author of The Gospel of Anarchy, calls The Marbled Swarm "a mindbendingmasterpiece . . . vivid, slippery, ferocious, and rich with secrets. Nobody elsecould have written this novel and nothing else like it exists." Cooper, following his collections Smothered in Hugs and Ugly Man, offershis fans the expansive novel they have been waiting for--one that will become atouchstone of outsider literature.
Praise For The Marbled Swarm…
"A mesmerizing, labyrinthine tour through an especially hellish father-son relationship."
-Vanity Fair

"Provocative...Cooper's interest in the darkest corners of the human experience...has not dimmed with age. The novel's contradictory narratives intentionally echo the secret passageways in which the narrator's predatory activities take place, creating a baroque, voyeuristic effect.
-New Yorker

"The Marbled Swarm is concerned as much with language as it is with relationships and power….His fantastical story of everyday cannibalism is told in such finely chiseled yet disorienting prose that you suspect you're being led into a maze."
-OUT Magazine

"Cooper's status as an underground renegade of experimental fiction doesn't reduce his talent or the brilliance of his dark views. He is a passionately humane writer. We need his voice now more than ever."
-Paste Magazine

"… lies somewhere in between Lolita and Dracula, mixing the gothic terror and disturbing subject of both, within a contemporary bi-sexual, skinny jeaned, iPhone-totting environment, and a much further push of the envelope. … a novel that must be read."
-The Coffin Factory

"In The Marbled Swarm, Cooper has coupled a clever intellectual romp with stomach-turning brutality and quite a bit of humor."
-Washington Independent Book Review

"…deftly executed plot surgery…"
-Nylon Magazine

"The most personal, and honest [of Cooper's] daring, perplexing books."
-BookForum

"Readers unfamiliar with transgressive fiction would do well to brace themselves for what will either be the shock of the unrelentingly different or, perhaps, the shock of recognizing writing that speaks to their souls."
-Booklist

"… language every bit as thrilling, rapt, and brain-waking as we could want from one of our living legends…"
-Fanzine

"Patient and careful readers will be rewarded for their diligent attention to the text with a controversial, dazzling and intelligent work of literature."
-Bookreporter.com

"There is a brutal honesty to this novel, a brutal wisdom."
-Barnes & Noble's "Unabashedly Bookish"

"The Marbled Swarm cumulates mystery, desire, and connections as it appears to shed mystery, desire, and connections; magic. Or sleight of hand....This book is great art."
-HTMLGIANT

"The Marbled Swarm is a mindbending masterpiece from one of my all-time favorite writers. It is vivid, slippery, ferocious, and rich with secrets. Nobody else could have written this novel and nothing else like it exists."
-Justin Taylor, author of The Gospel of Anarchy and Everything Here is the Best Thing Ever

"Disquieting, humbling, and sadly beautiful in the way only Dennis Cooper can be, The Marbled Swarm is a mystifying and courageous novel that represents his finest work to date."
-Patrick deWitt, author of The Sisters Brothers and Ablutions

"This gorgeously warped brain-bender of a novel… reimagines the family romance (fathers-and-sons side only) in perfections of language that will startle and seduce you anew on every page. The Marbled Swarm is Dennis Cooper's most genius-haunted achievement."
-Gary Lutz, author of Stories in the Worst Way
Advertisement