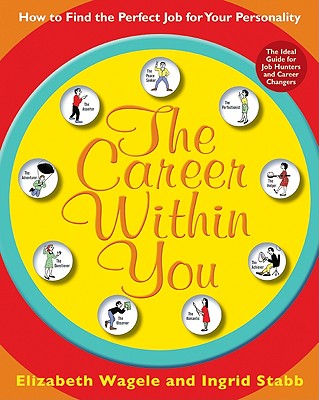 The Career Within You (Paperback)
How to Find the Perfect Job for Your Personality
HarperOne, 9780061718618, 360pp.
Publication Date: January 1, 2010
Description
"Wagele and Stabb are great detectives who will help you understand your perfect habitat for all you can bring to the workplace.
--Chip Conley, Founder/CEO, Joie de Vivre Hospitality, and author of Peak Employing the Enneagram Personality Assessment System, Elizabeth Wagele, author of The Enneagram Made Easy, and career workshop and events organizer Ingrid Stabb can help you discover The Career Within You. Unlike "one-size-fits-all" self-help business books, The Career Within You provides everything you need to fully understand your individual strengths, gifts, needs, and distinct personality traits, and will point you toward a job uniquely tailored to you. "It will free you to become the person you know you really want to be," says Gil Garcetti, former Los Angeles County District Attorney and Consulting Producer of "The Closer."
Praise For The Career Within You: How to Find the Perfect Job for Your Personality…
What a tragedy it is to posses such natural gifts and to hide them from ourselves and the world. Wagele and Stabb are great detectives who will help you understand your perfect habitat for all you can bring to the workplace.
-Chip Conley, Founder & CEO, Joie de Vivre Hospitality, author of PEAK: How Great Companies Get Their Mojo from Maslow

This book will free you to become the person you know you really want to be. It is of immense help in understanding yourself and your colleagues. It will empower you to take those steps that will result in new and even joyful professional satisfaction.
-Gil Garcetti, former Los Angeles County District Attorney, Consulting Producer of "The Closer," author and photographer

This book is full of valuable information on developing one's career. A great strength of the book is its entertaining style – I loved the charts, cartoons, exercises, etc. which add a light touch to the serious material covered in the book.
-Subrata K. Sen, Joseph F. Cullman Professor of Marketing, Yale School of Management

"The Career Within You will help you recognize who you are in the working world, the kind of job you'll thrive at and how to find it."
-Jonathan Feinstein, John G. Searle Professor of Economics and ManagementYale School of ManagementJonathan Feinstein, John G. Searle Professor of Economics and Management, Yale School of Management
Advertisement