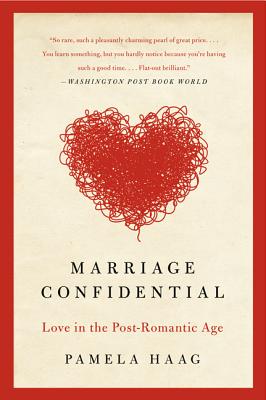 Marriage Confidential
Love in the Post-Romantic Age
Paperback

* Individual store prices may vary.
Other Editions of This Title:
Paperback, Spanish (6/30/2013)
Description
"Inthis timely and thought-provoking analysis of modern coupledom, PamelaHaag& paints a vivid tableau of the 'semi-happy' couple. Written withwit and aplomb, this page turner will instigate an insurrection against ourmarital complacency." —Esther Perel, author of Matingin Captivity
Writtenwith the persuasive power of Naomi Wolf and the analytical skills of Susan Faludi, Pamela Haag's provocative but sympathetic look atthe state of marriage today answers—and goes beyond—the question many of us are asking: "Is this all there is?"
Praise For Marriage Confidential: Love in the Post-Romantic Age…
"If you're coupled up—or want to be—you've got to read this."
— Glamour

"Haag's well-researched provocative study will get you thinking."
— People, "Great Summer Reads"

"The perfect book club choice.;. . . Free of the inflammatory politics and cultural baggage that usually accompanies the topic.;. . . It does make you reflect on modern mating habits. It's fun."
— USA Today

"[A] fun, interesting read."
— TODAY

"Pamela Haag takes a fresh look at the state of our legal unions."
— More

"Fascinating. . . . Couldn't be more timely or relevant."
— Huffington Post

"Provocative."
— The Times (London)

"Throughout her initial analysis she is spot-on. . . . [with a] sharp, erudite style . . . Haag has her capable finger on the pulse of the American marriage."
— Publishers Weekly (starred review)

"A startlingly honest and surprisingly funny account of marital discontent…. Avoiding comfortable bromides and rejecting the usual clichés, Haag reports on how married people really live these days…. This is one of the few books around with something new to say about the travails of modern love and coupledom."
— Laura Kipnis, author of Against Love: A Polemic and How to Become a Scandal

"Brilliant. . . . Marriage Confidential is both laugh-out-loud funny and gasp-out-loud shocking, and nothing less than a Feminine Mystique for our time. Mark my words, your marriage will change after reading this book."
— Paul Harding, Wall Street Journal

"In this timely and thought-provoking analysis of modern coupledom, Pamela Haag paints a vivid tableau of the 'semi-happy' couple. Written with wit and aplomb, this page turner will instigate an insurrection against our marital complacency."
— Esther Perel, author of Mating in Captivity

"The personal is political after all. This first big history of the marriages of the post-feminist generation tells a riveting story of how socially empowered women-including many who opted out-and their mates are still struggling to find happiness in their personal lives."
— Linda Hirshman, author of Get to Work: . . . And Get a Life, Before It's Too Late

"[Haag] doesn't shy away from controversy in discussing how some marriage 'rebels' try to breathe new life into their relationships. A candid and thought-provoking read."
— Stephanie Coontz, author of Marriage, a History: How Love Conquered Marriage

"[Haag] wittily and meticulously explores what sets apart those who suffer quietly in their semi-happy marriages from those who take action-whether that action is working to improve the situation, splitting up, retreating to a man cave or having an affair."
— BookPage

"Marriage Confidential is so rare, such a pleasantly charming pearl of great price . . . You learn something, but you hardly notice because you're having such a good time.;. . . Flat-out brilliant."
— Washington Post Book World

"A fascinating journey through the evolution of marriage."
— Date Night Magazine

"I read it voraciously. . . . [Haag] is thoughtful, engaging, unconventional, and amusing."
— Bella DePaulo, Psychology Today

"The chances are, this book describes your marriage. . . . It's also an entertaining read."
— Mail on Sunday (UK)
Harper Perennial, 9780061719295, 352pp.
Publication Date: June 5, 2012
About the Author
PAMELA HAAG has a Ph.D. in history from Yale and has held several fellowships. She has been published in the American Scholar, Christian Science Monitor, and Huffington Post, and has been heard on NPR and elsewhere. She also writes a twice-weekly column for Big Think magazine.