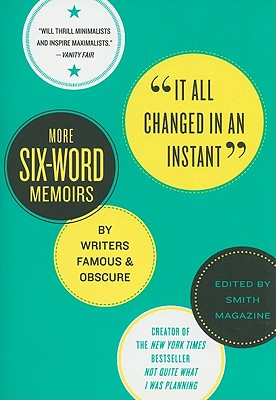 It All Changed in an Instant (Paperback)
More Six-Word Memoirs by Writers Famous & Obscure
Harper Perennial, 9780061719431, 272pp.
Publication Date: January 5, 2010
* Individual store prices may vary.
Description
"A perfect distraction and inspiration, and a collection that begs to be shared. Be warned, though. If you plan to lend out your copy, start out with two. Once it leaves your hands you'll never see it again."
—Denver Post (on Not Quite What I Was Planning)
The editors of the New York Times bestseller Not Quite What I Was Planning are back with its much-anticipated sequel, It All Changed in an Instant. With contributions from acclaimed authors like Malcolm Gladwell, Frank McCourt, Wally Lamb, Isabel Allende, Junot Diaz, Amy Tan, and James Frey, and celebrities like Sarah Silverman, Suze Orman, Marlee Matlin, Neil Patrick Harris, Ann Coulter, and Chelsea Handler, It All Changed in an Instant presents a thousand more glimpses of humanity. . . six words at a time. In the vein of the popular Post Secret books, It All Changed in an Instant, in the words of Vanity Fair, "will thrill minimalists and inspire maximalists."
About the Author
LARRY SMITH is an adjunct associate professor of economics at the University of Waterloo and a recipient of the University of Waterloo's Distinguished Teacher Award. During his longstanding tenure, Smith has taught and counselled more than 23,000 students on the subject of their careers, representing more than 10 percent of UW's alumni. Smith has worked with more than 500 teams of student entrepreneurs, advising them as they have created companies of significant size and success across industries as broad-reaching as communications, software, robotics, entertainment, design and real estate. Smith is also president of Essential Economics Corporation, an economic consulting practice that serves a wide range of public and private clients. "Why You Will Fail to have a Great Career," his TEDx Talk based on his experience counselling students, has been viewed by over six million people.
Rachel Fershleiser is SMITH's memoir editor and has written for the Village Voice, the New York Press, Print, and the National Post. Rachel lives in New York City.
Praise For It All Changed in an Instant: More Six-Word Memoirs by Writers Famous & Obscure…
"Will thrill minimalists and inspire maximalists."
— Vanity Fair

"The brilliance is in the brevity."
— New York Post

"A perfect distraction and inspiration."
— Denver Post

"Irresistibly clever."
— Chicago Tribune

"American haiku."
— St. Louis Post-Dispatch

"You could spend a lifetime brainstorming."
— The New Yorker

"The pithiest of life stories."
— O, The Oprah Magazine

"Makes for compulsive reading and prove arguably as insightful as any 300+ page biography. Taken as a whole, this cascade of quotes from contributors famous and unknown creates a dizzying snowball effect of perspectives and feelings."
— Publishers Weekly

"A torrent of self-expression not unlike the one launched by Frank Warren when he began inviting people to write their secrets on the back of postcards."
— Toronto Star

"The petite self-portraits encompass love and love, joy and sorrow-everything you'd expect from a longer book."
— ReadyMade Magazine

"A fabulously appealing exercise both for writers and for readers."
— Telegraph

"A good number conjure up both a story line and a worldview. Six-word review: Buy it, keep it in bathroom."
— Philadelphia Magazine

"I fell so in love with it."
— Atlanta Journal-Constitution

"Six words. Personal stories. Infinite possibilities. These ADD autobiographies prove that brevity can be the soul not simply of wit."
— VSL.com

"Dude's weird premise yields interesting stories."
— Ira Glass, NPR's This American Life

"Six-word memoirs leave book lover speechless."
— Rocky Mountain News
Coverage from NPR