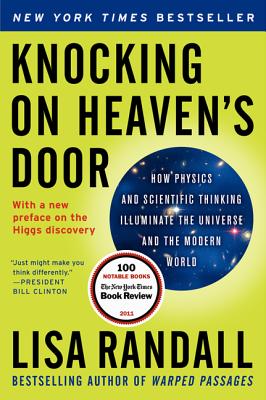 Knocking on Heaven's Door (Paperback)
How Physics and Scientific Thinking Illuminate the Universe and the Modern World
Ecco, 9780061723735, 480pp.
Publication Date: October 2, 2012
Other Editions of This Title:
MP3 CD (9/27/2011)
Hardcover (9/20/2011)
Hardcover (9/1/2011)
Compact Disc (9/27/2011)
Pre-Recorded Audio Player (1/1/2012)
Compact Disc (9/27/2011)
* Individual store prices may vary.
Description
"Science has a battle for hearts and minds on its hands….How good it feels to have Lisa Randall's unusual blend of top flight science, clarity, and charm on our side."
—Richard Dawkins
"Dazzling ideas….Read this book today to understand the science of tomorrow."
—Steven Pinker
The bestselling author of Warped Passages, one of Time magazine's "100 Most Influential People in the World," and one of Esquire's "75 Most Influential People of the 21st Century,"  Lisa Randall gives us an exhilarating overview of the latest ideas in physics and offers a rousing defense of the role of science in our lives. Featuring fascinating insights into our scientific future born from the author's provocative conversations with Nate Silver, David Chang, and Scott Derrickson, Knocking on Heaven's Door is eminently readable, one of the most important popular science books of this or any year. It is a necessary volume for all who admire the work of Stephen Hawking, Michio Kaku, Brian Greene, Simon Singh, and Carl Sagan; for anyone curious about the workings and aims of the Large Hadron Collider, the biggest and most expensive machine ever built by mankind; for those who firmly believe in the importance of science and rational thought; and for anyone interested in how the Universe began…and how it might ultimately end.

About the Author
Lisa Randall studies theoretical particle physics and cosmology at Harvard University, where she is Frank B. Baird, Jr., Professor of Science. A member of the National Academy of Sciences, the American Philosophical Society, and the American Academy of Arts and Sciences, she is the recipient of many awards and honorary degrees. Professor Randall was included in Time magazine's "100 Most Influential People" of 2007 and was among Esquire magazine's "75 Most Influential People of the 21st Century." Professor Randall's two books, Warped Passages (2005) and Knocking on Heaven's Door (2011) were New York Times bestsellers and 100 Notable Books. Her stand-alone e-book, Higgs Discovery: The Power of Empty Space, was published in 2012.
Praise For Knocking on Heaven's Door: How Physics and Scientific Thinking Illuminate the Universe and the Modern World…
"Written with dry wit and ice-cool clarity. A book anyone at all interested in science must read. Surely the science book of the year."
— Sunday Times (London)

"Startlingly honest [and] beautifully written. . . . Randall's calm authority and clarity of explanation are exemplary. . . . Like being taken behind the curtain in Oz and given a full tour by the wizard."
— NewScientist.com

"[Randall is] one of the more original theorists at work in the profession today. . . . She gives a fine analysis of the affinity between scientific and artistic beauty, comparing the broken symmetries of a Richard Serra sculpture to those at the core of the Standard Model."
— New York Times Book Review

"[A] whip-smart inquiry into the scientific work being conducted in particle physics. . . . [Randall] brings a thrumming enthusiasm to the topic, but she is unhurried and wryly humorous. . . . [Knocking on Heaven's Door] dazzles like the stars."
— Kirkus Reviews (starred review)

"The general reader's indispensable passport to the frontiers of science."
— Booklist (starred review)

"[Randall's] eloquent book details the trials and tribulations of the [Large Hadron Collider], from conception to implementation, and takes us on a grand tour of the underlying science."
— Nature

"Offers the reader a glimpse of the future. . . . An enlightening and exciting read."
— San Francisco Book Review

"Valuable and engaging. . . . Randall's generous cornucopia of ideas, her engaging style, and above all her deep excitement about physics make this a book that deserves a wide readership."
— American Scientist

"Full of passion and jaw-dropping facts. . . . A fascinating account of modern particle physics, both theoretical and practical."
— The Independent on Sunday

"Beautifully written. . . . An impressive overview of what scientists (of any kind) get up to, how they work and why science is an inherently creative endeavor."
— Times Higher Education (London)

"Randall's witty, accessible discussion reveals the effort and wonder at hand as scientists strive to learn who we are and where we came from."
— Publishers Weekly

"Randall manages to transform . . . experiments at distant and unfamiliar scales into crucial acts in a cosmic drama."
— Daily Beast

"An exciting read about the very edge of modern science. . . . [Knocking on Heaven's Door] inspires a sense of awe, appreciation and excitement for what the future holds."
— Daily Texan

"Very accessible, readable, and appealing to a broad audience. . . . Randall's passion and excitement for science and physics is infectious and welcome in our digital age."
— New York Journal of Books

"Lisa Randall has written Knocking on Heaven's Door in the same witty, informal style with which she explains physics in person, making complex ideas fascinating and easy to understand. Her book . . . just might make you think differently—and encourage you to make smarter decisions about the world."
— President Bill Clinton

"A deep and deeply wonderful explanation of how science—and the rest of the known universe—actually works."
— Daniel Gilbert, author of Stumbling on Happiness

"Lisa Randall is the rarest rarity—a theoretical physics genius who can write and talk to the rest of us in ways we both understand and enjoy. This book takes nonspecialists as close as they'll ever get to the inner workings of the cosmos."
— Lawrence H. Summers, President Emeritus of Harvard University

"Science has a battle for hearts and minds on its hands: a battle on two fronts—against superstition and ignorance on one flank, and against pseudo-intellectual obscurantism on the other. How good it feels to have Lisa Randall's unusual blend of top flight science, clarity, and charm on our side."
— Richard Dawkins, author of The Selfish Gene and The God Delusion

"Randall's lucid explanations of . . . the frontiers of physics-including her own dazzling ideas-are highly illuminating, and her hearty defense of reason and science is a welcome contribution. . . . Read this book today to understand the science of tomorrow."
— Steven Pinker, author of How the Mind Works and The Stuff of Thought

"Lisa Randall does a great job of explaining to the non-physicist the basic science approaches of modern physics and what the latest experiments might reveal. . . . This is a must read to appreciate what is coming in our future."
— J. Craig Venter, sequencer of the human genome and developer of the first synthetic life

"I didn't think it was possible to write a complex, detailed look at the world of physics that the non-scientist could understand, but then Lisa Randall wrote this amazing, insightful, and engaging book and proved me wrong."
— Carlton Cuse, award–winning producer and writer of Lost