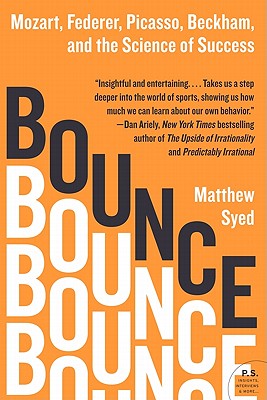 Bounce: Mozart, Federer, Picasso, Beckham, and the Science of Success (Paperback)
Mozart, Federer, Picasso, Beckham, and the Science of Success
Harper Perennial, 9780061723766, 312pp.
Publication Date: May 3, 2011
Description
In the vein of the international bestselling Freakonomics, award-winning journalist Matthew Syed reveals the hidden clues to success--in sports, business, school, and just about anything else that you'd want to be great at. Fans of Predictably Irrational and Malcolm Gladwell's The Tipping Point will find many interesting and helpful insights in Bounce.
Praise For Bounce: Mozart, Federer, Picasso, Beckham, and the Science of Success…
"Sport is often used as an analogy for business, education, and personal relationships. In this insightful and entertaining book, Matthew Syed takes us a step deeper into the world of sports, showing us how much we can learn about our own behavior."
-Dan Ariely, New York Times bestselling author of Predictably Irrational

"A cutting edge dissection—and ultimate destruction—of the myth of innate talent in the pursuit of excellence. Syed synthesizes his evidence with the precision of an academic, writes with the fluidity of a journalist, and persuades with the drive of a sportsman. Read this book."
-Mark Thomas, Professor of Evolutionary Genetics, University College London

"Intellectually stimulating and hugely enjoyable at a stroke. . . . Challenged some of my most cherished beliefs about life and success."
-Jonathan Edwards, Olympic Gold Medal Winner in the Triple Jump

"Compelling and, at times, exhilarating—Bounce explains high achievement in sport, business, and beyond."
-Michael Sherwood, Chief Executive, Goldman Sachs International
Advertisement