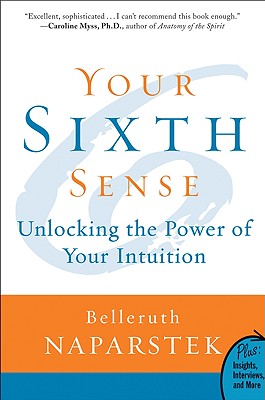 Your Sixth Sense (Paperback)
Unlocking the Power of Your Intuition
HarperOne, 9780061723780, 272pp.
Publication Date: June 2, 2009
Other Editions of This Title:
Paperback (6/1/1998)
Hardcover (4/3/1997)
* Individual store prices may vary.
Description
Unlock the Boundless Power of Your Intuition
We've all experienced moments of "knowing" that defy logic and reason. But just what is this extra sense and how does it work? Why do certain life experiences—falling in love, feeling intense grief, having a near-death experience—seem to bring it on? Let this thoughtful and illuminating guide help you coax out your own intuitive wisdom.
About the Author
Belleruth Naparstek is a practicing psychotherapist, author of Staying Well with Guided Imagery and Invisible Heroes, and creator of the bestselling Health Journeys guided imagery audiotapes.
Praise For Your Sixth Sense: Unlocking the Power of Your Intuition…
"Belleruth's insights are practical, grounded, validating and helpful. This is a well-researched, thoughtful how-to book . . . There is truly something here for everyone."
— Christiane Northrup, M.D., author of Women's Bodies, Women's Wisdom

"Excellent…sophisticated…I can't recommend this book enough."
— Carolyn Myss, Ph.D., author of Anatomy of the Spirit

"Psychic abilities are our birthright, part of who we are. They are also a razor's edge, as every spiritual tradition has realized. Wise guides are needed in exploring this area. Belleruth Naparstek is such a guide. This is a fine contribution to exploring our human potential."
— Larry Dossey, author of The Extraordinary Healing Power of Ordinary Things

"Naparstek's penetrating study of intuitives has informed this brilliant classic, which unites the logic of the mind with the wisdom of the heart…Grounded in the cultivation of empathy, the exercises in this book will open your heart and expand your sense of intimate connectedness wit this remarkable universe."
— Joan Borysenko, Ph.D., author of Minding the Body, Mending the Mind and A Woman's Book of Life

"I have personally experienced what has been written. I believe we are entering a period when science will have to confront and study human potential. I suggest skeptics and all those interested in enhancing their psychic potential read this book."
— Bernie Siegel, MD, author of Love, Medicine & Miracles

"One of the most brilliant books on the subject. A guided tour of psychic ability-what it is, where it comes from and how it words. Written with eloquence and humor, this work is destined to become 'book of the year.'"
— Ruth Buczynski, Ph.D., president of the National Institute for the Clinical Application of Behavioral Medicine

"I do not know of any other book that combines the wisdom of a psychotherapist, the knowledge of a scholar, the skill of a master hypnotist, the sensitivity of a psychic intuitive, and the memories of a remarkable collection of gifted practitioners. This book is a treasure!"
— Jeffrey Mishlove, Ph.D., author of The Roots of Consciousness