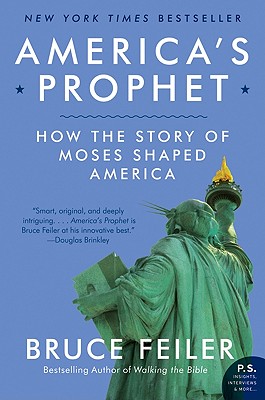 America's Prophet
How the Story of Moses Shaped America
Paperback

* Individual store prices may vary.
Other Editions of This Title:
Digital Audiobook (10/5/2009)
Compact Disc (3/9/2021)
MP3 CD (3/9/2021)
Hardcover (10/6/2009)
Description
Bruce Feiler's New York Times bestsellers Abraham, Walking the Bible, and Where God Was Born brilliantly explored the roots of faith. With America's Prophet, Feiler looks at Moses and the essential role the prophet has played in our nation's history and development. Bruce Feiler's most fascinating and thought-provoking book to date, America's Prophet delves deeply into how the Exodus story and America's true "Spiritual Founding Father" have inspired many of the most important figures and defining events in this country's history—from the Mayflower Pilgrims to the Civil Rights movement—and how Moses can provide meaning in times of national crisis, even today.
Praise For America's Prophet: How the Story of Moses Shaped America…
"This is one of the most original, intelligent and endlessly fascinating books I have read in years: it should become a set book for anyone wanting to know what truly makes America tick."
— Simon Winchester

"With a journalist eye and an adventurers spirit, Bruce Feiler brings his prodigious gifts of biblical analysis to a reconsideration of Moses as the essential prophet of the American Experience. This is an accessible and engaging book of indispensible insight."
— Tony Horwitz

"What a smart, original, and deeply intriguing reflection on the role Moses played – yes, Moses – in U.S. history. America's Prophet is Bruce Feiler at his innovative best: compelling, sweeping and engaging. Highly recommended!"
— Douglas Brinkley

"Fascinating and thought provoking."
— Booklist (starred review)

"Astunning collective portrait of an ingrown community with its own history, hierarchy, and traditions."
— The New Yorker on Under the Big Top

"Penetrating and insightful. . . . Bruce Feiler's Dreaming Out Loud details the ins and outs of Nashville."
— New York Times on Dreaming Out Loud
William Morrow Paperbacks, 9780061726279, 400pp.
Publication Date: September 21, 2010
About the Author
Bruce Feiler is the author of six consecutive New York Times bestsellers, including Abraham, Where God Was Born, America's Prophet, The Council of Dads, and The Secrets of Happy Families. He is a columnist for the New York Times, a popular lecturer, and a frequent commentator on radio and television. He lives in Brooklyn with his wife and twin daughters.
After having read the book, do you agree with Buce Feiler that Moses is America's true founding father?
What does the phrase " the Promised Land" mean? Would you call American the Promised Land? Why? What makes it so? If you could create you own ideal promised land, what would it look like?
America's Prophet takes us from the Pilgrims to the Revolution, the Civil War to the Civil Rights movement. Where you surprised to discover Moses' influence on some of the most decisive events in our nation's history? What amzed you most?
Do you have a favorite Exodus Story from our history? Explain. When Bruce Feiler met President Bush, he asked him if there were any moments when Moses inspired him. Have there been any moments when Moses inspired you?
Can you think of some other examples—not just limited to America—of where Moses and the Exodus story has been an influence, whether historically or in popular culture?
Often when we hear religion and politics being discussed it is in a negative light. How can politics and religion be a positive force for each other? How does Feiler make this argument? Use examples from the book. Can you think of other examples to support your point?
At the end of America's Prophet, the author asks if Moses is still relevant today. What do you think? Do you agree with his conclusions? How might the Exodus story help us even now?
Take any example from the book. Describe how Moses inspired George Washington and Benjamin Franklin or Abraham Lincoln or Barack Obama.
Think about the Emma Lazarus poem, The New Colossus. When you read her words, what do they mean to you? What do you think they might mean to today's immigrants? Is their "promised land" different from the promised land of those who came before?
Who in your life or your community would you liken to Moses? How have they embodied the Moses ideal?
At the end of the book, Feiler asks his relative to define freedom. What does freedom mean to you?
If you have read Bruce Felier's other books—Where God Was Born, Abraham, Walking the Bible—how does America's Prophet fit in with those other works? Would you call it a continuation of the author's journey?