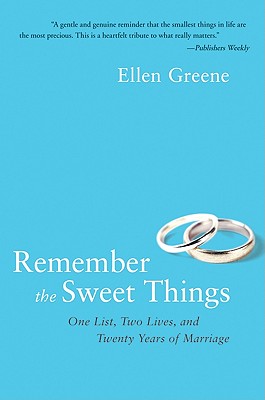 Remember the Sweet Things: One List, Two Lives, and Twenty Years of Marriage (Paperback)
One List, Two Lives, and Twenty Years of Marriage
Avon A, 9780061727610, 279pp.
Publication Date: January 26, 2010
Description
"Remember the Sweet Things isn't merely a love story. It is a manual for healthy living, told with searing honesty and profound tenderness, and poignancy that touches you on virtually every page."--Wayne Coffey, New York Times bestselling author of The Boys of Winter Ellen Greene's Remember the Sweet Things is a heartfelt, deeply affecting memoir of love, devotion, and a very special marriage, reminding us about what truly matters in life. Fans of Simple Abundance by Sarah Ban Breathnach will appreciate this warm and loving remembrance that author Susan Wiggs calls, "a beautiful meditation on love and life, and an affirmation of the power of gratitude....A true gift to the reader."
Praise For Remember the Sweet Things: One List, Two Lives, and Twenty Years of Marriage…
"REMEMBER THE SWEET THINGS is...a beautiful meditation on love and life, and an affirmation of the power of gratitude. Told in a clear and honest voice, its indelible message—that it's all the sweet little things that add up to an extraordinary love—is a true gift to the reader."
--- New York Times bestselling author Susan Wiggs

"Ellen Greene tells us how "happily ever after" works, and she does it with such grace and candor that even the unluckiest and most cynical will take note...."
-Marilyn Johnson, author of The Dead Beat

"REMEMBER THE SWEET THINGS isn't merely a love story. It is a manual for healthy living, told with searing honesty and profound tenderness, and poignance that touches you on virtually every page....I didn't just savor REMEMBER THE SWEET THINGS. I am a better person for having read it."
-Wayne Coffey, author of the New York Times bestseller, The Boys of Winter

"What could have been a saccharine story filled with clichés is instead a gentle and genuine reminder that the smallest things in life are the most precious. This is a heartfelt tribute to what really matters."
-Publishers Weekly
Advertisement