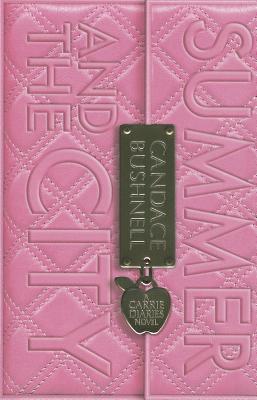 Summer and the City (Paperback)
Balzer & Bray/Harperteen, 9780061729003, 416pp.
Publication Date: April 24, 2012
Description
The Sequel to the #1 New York Times Bestseller The Carrie Diaries
Summer and the City brings surprising revelations as Carrie learns to navigate her way around the Big Apple, going from being a country "sparrow"--as Samantha Jones dubs her--to the person she always wanted to be. But as it becomes increasingly difficult to reconcile her past with her future, Carrie realizes that making it in New York is much more complicated than she ever imagined.
With her signature wit and sparkling humor, Candace Bushnell reveals the irresistible story of how Carrie met Samantha and Miranda, and what turned a small-town girl into one of New York City's most unforgettable icons, Carrie Bradshaw.
Praise For Summer and the City…
"If ever a book resounded with positive messages for young people, it's this one."
-USA Today

"Fans of the franchise will want to learn more of Carrie's coming-of-age experiences and will appreciate the sly wit that sometimes shines through-repartee at parties is occasionally priceless; others might enjoy imagining themselves in Carrie's freewheeling demi-adult world. "
-Kirkus Reviews

"The 1980s Manhattan setting is vividly realized, while Carrie's friendships, doubts, joys, and truisms are relatable and revealing for teens and recognizable for adults. Both audiences will flock to this installment, like Carrie to Chanel."
-ALA Booklist

"While this book clearly has a built-in audience of adult readers and older teens who are fans of the show and Bushnell's adult books, there's also something here for anyone who has ever wished to build a fabulous new life and, especially, for aspiring writers."
-School Library Journal

"'Summer and the City' is Grade-A chick lit from one of its masters."
-Los Angeles Times

"An enjoyable romp of a read."
-Entertainment Weekly

Praise for THE CARRIE DIARIES: "Carrie's sharp observations of her peers and human relationships give the book smart, sassy intellectual power."
-Kirkus Reviews

Praise for THE CARRIE DIARIES: "With wit and insight, Carrie chronicles her emotionally charged senior year at a small Connecticut high school."
-Publishers Weekly

Praise for THE CARRIE DIARIES: "An addictive, ingenious origin story."
-Los Angeles Times

Praise for THE CARRIE DIARIES: "Fans will love this."
-Booklist
Advertisement