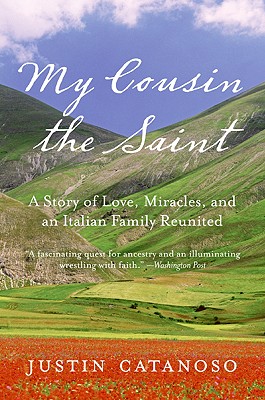 My Cousin the Saint: A Story of Love, Miracles, and an Italian Family Reunited (Paperback)
A Story of Love, Miracles, and an Italian Family Reunited
Harper Perennial, 9780061729324, 337pp.
Publication Date: June 16, 2009
Description
Justin Catanoso, born and raised in New Jersey, knew little of his family beyond the Garden State. That changed in 2001 when he discovered that his grandfather's cousin, Padre Gaetano Catanoso, aaaaawas a Vatican-certified miracle worker. A typically lapsed American Catholic, Justin embarked on a quest to connect with his extended family in southern Italy and, ultimately, to awaken his slumbering faith.
A compelling narrative written with grace and honesty, My Cousin the Saint is a testament to the challenge of being Catholic in twenty-first-century America. More than a biography, more than an immigrant memoir, more than a chronicle of renewed faith, it is a love letter to a family now reunited across oceans and years.
Praise For My Cousin the Saint: A Story of Love, Miracles, and an Italian Family Reunited…
"Justin Catanoso went to Italy in search of his canonized cousin. In finding the story of his own family, he has written a warm and candid memoir that I admire."
-Gay Talese, author of Unto the Sons

"Glorious. . . . It's a great story: part travelogue, part detective story, part spiritual journal, and beautifully told."
-America: The National Catholic Weekly

"A fascinating quest for ancestry and an illuminating wrestling with faith."
-washingtonpost.com

"Worth worth reading for the travelogue alone."
-Greensboro News & Record

"A glorious book! Part spiritual journey, part detective story, part travelogue, Justin Catanoso's engrossing new memoir shows how discovering God always leads to discovering yourself. His quest to learn about his saintly cousin leads him to a fuller and richer understanding of his faith, his family, and, ultimately, himself."
-James Martin, SJ, author of My Life with the Saints and frequent commentator for the New York Times and National Public Radio

"A beautiful book that brings with it the joy and recognition of family and of faith."
-Antonio Monda, author of Do You Believe?: Conversations on God and Religion

"Vividly brings to life one of the Church's newest canonized saints."
-The Catholic Standard & Times

"A book for history lovers. . . for students of theology, for those who question their faith, or for anyone stumbling down life's highway."
-Cape May County Herald
Advertisement