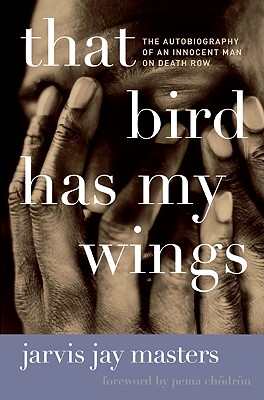 That Bird Has My Wings (Hardcover)
The Autobiography of an Innocent Man on Death Row
HarperOne, 9780061730450, 304pp.
Publication Date: September 22, 2009
* Individual store prices may vary.
Description
That Bird Has My Wings is the astounding memoir of death row inmate Jarvis Masters and a testament to the tenacity of the human spirit and the talent of a fine writer. Offering scenes from his life that are at times poignant, revelatory, frightening, soul-stirring, painful, funny, and uplifting, That Bird Has My Wings tells the story of the author's childhood with parents addicted to heroin, an abusive foster family, a life of crime and imprisonment, and the eventual embracing of Buddhism.
About the Author
An inmate at San Quentin since the age of nineteen, Jarvis Jay Masters is the author of Finding Freedom as well as many articles. In 1992, Masters won a PEN Award for his poem "Recipe for Prison Pruno."
In 1990, Masters was moved to death row after being convicted of conspiracy in the murder of a prison guard. In April 2008, the California Supreme Court ordered an evidentiary hearing based on the lack of substantial evidence for Masters's conviction.Many people believe in Masters's innocence and are actively working within the legal system to free him.
Praise For That Bird Has My Wings: The Autobiography of an Innocent Man on Death Row…
Jarvis Jay Masters was set on a dangerous course which eventually brought him to death row. Somehow, within those walls, he now demonstrates divine grace in his daily life and by the cautionary tale he shares within these pages. This amazing, wise man deserves our ear, and our support.
— --Sister Helen Prejean, author of Dead Man Walking

Forthright about his own failings, Masters' truth has brought him reconciliation with his best self. His compelling memoir is a plea for reform, for a common humanity, and I share his hope that this moving story will redouble our efforts to make sure that every child matters.
— Desmond Tutu

A real-life The Wire-heartbreaking and harrowing, impossible to put down. A miraculous accomplishment, That Bird Has My Wings captivates, instructs, and inspires as Masters shows how enlightenment can occur even in a place as grim as San Quentin Prison's death row.
— David Sheff, author of Beautiful Boy

Jarvis Jay Masters' moving memoir provides an intimate portrait of the tragic racial inequality in our justice system, and testifies to the need for better education, greater training, and increased opportunity to keep these forgotten youth from ending up in our nation's juvenile centers and prisons. Read this book!
— Van Jones, founder, The Ella Baker Center for Human Rights & Green for All, and author of Green Collar Economy

All across America, boys are lost to trauma and deprivation. Few of them have given voice to their experience and the redemptive power of spirituality as has Jarvis Jay Masters.
— James Garbarino, Ph.D., author of Lost Boys: Why Our Sons Turn Violent and What We Can Do About It

Brave, heartbreaking, redemptive and wise. Jarvis Jay Masters has turned his life into remarkable good medicine.
— Jack Kornfield, author of A Path with Heart

Masters' . . .ability to recognize, subdue and transform the self-destructive drive such life-denying forces promote is a lesson for us all. His time is now. His book is a testament to the human spirit."
— Mike Farrell, chair of Death Penalty Focus and author of Just Call Me Mike:A Journey to Actor and Activist and From Mule to Man

"A gripping indictment of poverty and the foster-care system."
— Kirkus Reviews

A heartbreaking memoir; the brutal conditions of Masters's boyhood will be difficult for some readers to take, but his ultimate message of hope and reconciliation is moving and inspiring. Highly recommended.
— Library Journal

Masters' intelligent, incisive prose paints a compelling depiction of the horrors leading to his situation. . . . while awaiting execution, Masters gives us much to think about.
— Booklist

"In this polished tale that belies the author's raw origins, Masters, who has been imprisoned on San Quentin's death row since 1990 . . . recalls the neglect, abuse and cycle of crime and hopelessness that relegated him to prison by age 19."
— Publishers Weekly

"Masters' intelligent, incisive prose paints a compelling depiction of the horrors leading to his situation . . . Masters gives us much to think about."
— Booklist

"This brave account of a childhood ravaged by neglect, violence, and institutional indifference is remarkable for its utter lack of anger and bitterness. . . [Masters's] ultimate message of hope and reconciliation is moving and inspiring. Highly recommended."
— Library Journal

The compassionate act of self-discovery captured in "That Bird Has My Wings" is one that, will reach well beyond the confines of one cell, one act, or one person - and inspire many.
— San Francisco Chronicle

As Masters moves from foster homes to juvie to prison, you start to understand how badly the system fails kids like him. . . .a page-turner.
— San Francisco magazine

"That Bird Has My Wings is a powerful narrative of a life lost on the streets, and then found again in a prison cell on San Quentin's death row. This is not a book about guilt or innocence, but about the possibility of redemption."
— Shambhala Sun

"Masters' incisive unearthing of his past is a graceful and ultimately liberating story."
— Shambhala Sun

That Bird Has My Wings absolutely soars."
— Insight News
or
Not Currently Available for Direct Purchase