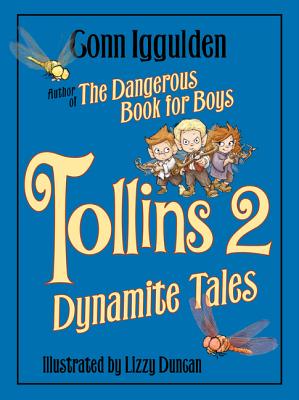 Tollins 2: Dynamite Tales (Hardcover)
Dynamite Tales
HarperTorch, 9780061731013, 188pp.
Publication Date: April 3, 2012
* Individual store prices may vary.
or
Not Currently Available for Direct Purchase
Description
We return to Chorleywood, home of the Tollins, tiny creatures with wings who aren't fairies and are about as fragile as a brick wall. In three thrilling stories, they will face the trials of theater, radio technology, and . . . armed invasion. Luckily, there's only medium exposure to danger . . . such as when Sparkler catches his hand in a pair of pliers.
In "Romeo and Beryl," Sparkler discovers an old human book and decides to put on a play of a story that is filled with great love and even more shouting. At the same time, a new craze sweeps Chorleywood as dragonfly racing literally takes off.
In "Radio," the Dark Tollins of Dorset invade in force, with a housecat leading the charge. Sparkler, Wing, and Grunion must find a way to save themselves, and possibly the cat as well.
Finally, in "Bones," the Tollins leave Chorleywood on a mission of mercy. The homes of the Dark Tollins are about to be blown up by humans We will dis-cover the importance of hot tea and toast in such desperate times. As well as jam, obviously. Once again, it's Sparkler and his band of Tollins to the rescue
Praise For Tollins 2: Dynamite Tales…
Praise for TOLLINS:"A deliciously subversive vein runs through this story collection-not surprising coming from the coauthor of The Dangerous Book for Boys…Iggulden's flair for the ironic and absurd, which recalls Lemony Snicket, should tickle both kids and adults."
-Publishers Weekly (starred review)
Advertisement