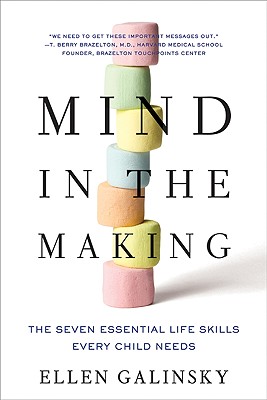 Mind in the Making (Paperback)
The Seven Essential Life Skills Every Child Needs
William Morrow Paperbacks, 9780061732324, 400pp.
Publication Date: April 20, 2010
Other Editions of This Title:
Digital Audiobook (11/14/2013)
Compact Disc (11/15/2013)
MP3 CD (11/15/2013)
Compact Disc (11/15/2013)
Pre-Recorded Audio Player (2/2/2014)
* Individual store prices may vary.
Description
"Ellen Galinsky—already the go-to person on interaction between families and the workplace—draws on fresh research to explain what we ought to be teaching our children. This is must-reading for everyone who cares about America's fate in the 21st century."
— Judy Woodruff, Senior Correspondent for The PBS NewsHour
 Families and Work Institute President Ellen Galinsky (Ask the Children, The Six Stages of Parenthood) presents a book of groundbreaking advice based on the latest research on child development.
About the Author
Ellen Galinsky, president and cofounder of the Families and Work Institute, helped establish the field of work and family life at Bank Street College of Education, where she was on the faculty for twenty-five years. At the institute, she continues to conduct seminal research on the changing workforce and changing family. Her more than forty books and reports include Ask the Children: The Breakthrough Study That Reveals How to Succeed at Work and Parenting and the now-classic The Six Stages of Parenthood. She has received numerous honorary degrees and awards, including the 2004 Distinguished Achievement Award from Vassar College. She served as the elected president of the National Association for the Education of Young Children and was elected a fellow of the National Academy of Human Resources in 2005. She holds a Master of Science degree in child development and education from Bank Street College of Education and a Bachelor of Arts degree in child study from Vassar College. A popular keynote speaker, she was a presenter at the White House Conference on Child Care in 1997 and on Teenagers in 2000. She is featured regularly in the media, including appearances on Good Morning America, World News Tonight, and The Oprah Winfrey Show.
Praise For Mind in the Making: The Seven Essential Life Skills Every Child Needs…
"[Mind in the Making] may well be the next iconic parenting manual, up there with Spock and Leach and Brazelton, one that parents turn to for reassurance that all is more or less okay, reminders of how to make it better and glimpses of what's to come."
— New York Times

"A valuable resource! Ellen Galinsky's extensive research reveals important insights into the science of early learning."
— Adele Faber, co-author of How to Talk So Kids Will Listen and Listen So Kids Will Talk

"We need to get these important messages out, and parents are clamoring for it."
— T. Berry Brazelton, M. D., Professor of Pediatrics, Emeritus Harvard Medical School and founder, Brazelton Touchpoints Center

"A readable and accessible volume enlivened by parents' narratives about what works and what doesn't. Galinsky's everyday, playful, parent-child learning interactions offer a place to start...a valuable, worthwhile resource."
— Publishers Weekly

As a working parent, I was grateful for every new nugget of insight to help me assess my kids' development and progress in school. I wish I had had "Mind in the Making," a recent book by Ellen Galinsky that offers a gold mine of information.
— Wall Street Journal

"[Ellen Galinsky's] latest book, Mind in the Making just put her in the 'Child Development Expert Hall of Fame.' Mind in the Making is one of those rare and glorious books that will make a difference on our children's lives and future."
— Michele Borba, Ed.D., author of The Big Book of Parenting Solutions

"Ellen Galinsky—already the go-to person on interaction between families and the workplace—draws on fresh research to explain what we OUGHT to be teaching our children. This is must-reading for everyone who cares about America's fate in the 21st century."
— Judy Woodruff, Senior Correspondent for The PBS NewsHour

"Mind in the Making is the central component of a creative, multi-faceted initiative that clarifies paths to lifelong learning—related to discoveries about brain development and how learning builds on the structure and function of the brain. It is a valuable contribution based on solid research that yields practical benefits."
— David A. Hamburg, MD,Weill Cornell Medical College and President Emeritus of the Carnegie Corporation of New York

"Mind in the Making is a tour de force. In Galinsky's hands, the latest scientific discoveries about how children learn are carefully molded into seven seemingly simple but profound skills that predict success in the 21st Century."
— Kathy Hirsh-Pasek, Professor of Psychology, Temple University, and coauthor of A Mandate for Playful Learning in Preschool

"A book of incomparable quality about what is best for children and why in today's world. Mind in the Making helps you assemble the ingredients in your own kitchen for rearing children who are intelligent, emotionally secure, and equipped to succeed."
— Roberta Michnick Golinkoff, Professor of Education, Psychology and Linguistics and Cognitive Science, University of Delaware, and coauthor of A Mandate for Playful Learning in Preschool

"Mind in the Making presents some of the most important research that will help every parent teach their children the fundamentals of life. Ellen Galinsky has figured out some of the great mysteries to raising caring, compassionate, well-rounded children. This is a 'must read' operating manual for any parent!"
— Laurie David, author of Family Dinners, and Producer, An Inconvenient Truth

"The future of our society depends on how we treat our children and this remarkable book, richly illustrated with examples from the latest scientific research, provides an engaging and well-informed characterization of the developmental challenges children face. It will be of enormous value to parents, educators and policy makers, and serious students of child development."
— Philip David Zelazo, Professor, Institute of Child Development, University of Minnesota Philip David Zelazo, Professor, Institute of Child Development, University of Minnesota Philip David Zelazo, Professor, Institute of Child Development, University of

"Mind in the Making shows why early learning and development matter more than ever. A highly cogent, remarkably accessible, and important book."
— Michael Levine, Executive Director, Joan Ganz Cooney Center

"Education goes far beyond the subjects we typically teach in school. Life skills like focus and perspective taking are essential to building human potential. Mind in the Making will be a powerful new resource for teachers and families."
— Gaston Caperton, President of the College Board

"Ellen Galinsky has been one of our most thoughtful as well as passionate advocates for children. In this book she assembles the latest fascinating research from the very best scientists in the field and presents it clearly and accurately, in a way that parents and others will find most valuable."
— Alison Gopnik, Professor of Psychology, University of California at Berkeley and author of The Philosophical Child

"This book is the antidote for anxious, busy parents who have limited time. It shows them where to put their effort and focus to ensure their children are prepared to thrive today and in the future."
— Cali Williams Yost, author of Work+Life: Finding the Fit That's Right for You

"Imagine a combination of an extremely knowledgeable and compassionate child psychologist and the parent you most respect advising you on the best way to raise your child. That's what you get with Ellen Galinsky's insightful new book, Mind in the Making."
— Judy Molland, Care2.com