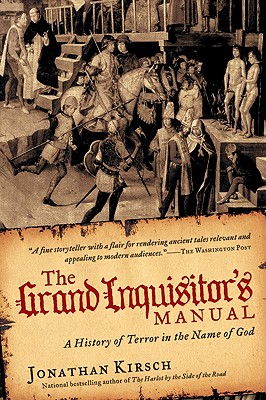 The Grand Inquisitor's Manual: A History of Terror in the Name of God (Paperback)
A History of Terror in the Name of God
HarperOne, 9780061732768, 296pp.
Publication Date: September 1, 2009
Description
The Grand Inquisitor's Manual by nationally bestselling author Jonathan Kirsch is a provocative popular history of the Inquisition, the 12th century reign of church-sanctioned terror. Ranging from the Knights Templar to the first Protestants, from Joan of Arc to Galileo, The Grand Inquisitor's Manual is a fascinating and sobering study of the torture and murder of hundreds of thousands of "heretics" in God's name--the original blueprints for persecution originally drafted in the Middle Ages but followed for centuries afterwards, up to and including the "advanced interrogation methods" recently employed at Guantanamo Bay.
Praise For The Grand Inquisitor's Manual: A History of Terror in the Name of God…
"Kirsch offers up an amazing recounting of the abuses of clergy and state in those terrible times. Kirsch's powerful and cautionary account is essential reading for historians and anyone who wants to understand the potential dark side of religion."
-Publishers Weekly, Starred Review

"A scathing account of the Inquisition's 600-year campaign to stifle religious dissent, as well as to persecute various groups of people it branded as alien menaces to communal security." –Los Angeles Times
-Los Angeles Times

"Jonathan Kirsch is a fine storyteller with a flair for rendering ancient tales relevant and appealing to modern audiences." --Washington Post
-Washington Post
Advertisement