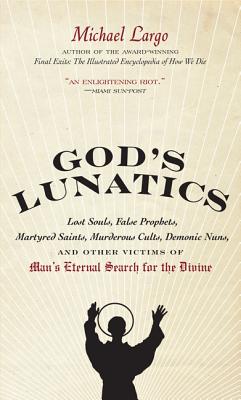 God's Lunatics: Lost Souls, False Prophets, Martyred Saints, Murderous Cults, Demonic Nuns, and Other Victims of Man's Eternal Search (Paperback)
Lost Souls, False Prophets, Martyred Saints, Murderous Cults, Demonic Nuns, and Other Victims of Man's Eternal Search
Harper Paperbacks, 9780061732843, 564pp.
Publication Date: June 22, 2010
Description
God's Lunatics is an eyebrow-raising encyclopedia of the strange and shocking side of history's religions, cults, and spiritual movements, by Michael Largo, the bestselling author of the Bram Stoker Award-winning Final Exits. A fascinating compendium of "Lost Souls, False Prophets, Martyred Saints, Murderous Cults, Demonic Nuns, and Other Victims of Man's Eternal Search for the Divine," God's Lunatics contains a wealth of valuable extreme spiritual information--including the number of exorcisms performed each year and the proper method for identifying the Antichrist.
Praise For God's Lunatics: Lost Souls, False Prophets, Martyred Saints, Murderous Cults, Demonic Nuns, and Other Victims of Man's Eternal Search…
"An enlightening riot, and one that will steer you away from religion quicker than a pervert priest."
-Miami SunPost

"One man has made it his mission to document and collect stories of religious fanatics, freaks, believers of all sorts just like this woman. That man, Michael Largo, regales the reader with tales of religion gone awry in God's Lunatics."
-The Daily Beast

"This book is fabulous. I cannot recommend it enough: Michael Largo's encyclopedia of religious weirdness through the centuries. I loved it."
-ExtraordinaryIntelligence.com

"An A to Z of the fantastic, scandalous and downright bizarre found within the history of religion. While a perfect book for quick-tempo, episodic reading, I actually found myself sucked into reading it for a stretch of some hours."
-Lansing State Journal

"In a cleverly subtle style, Largo reveals the puzzling beliefs and excesses of religions . . . measured and nuanced . . . his smartly written A-Z capsule entries allow readers to come to their own conclusions."
-Los Angeles Times

"Such a great read. . . . What's here is sometimes scarier than even the most frightening horror film. . . . Will entertain without offending."
-Horror-Web.com

"God's Lunatics takes the reader on a whirlwind tour of faith's more ridiculous manifestations. The work presents a Victorian freak show of cult leaders, mystics, and crusaders from throughout history."
-San Francisco Bay Guardian
Advertisement