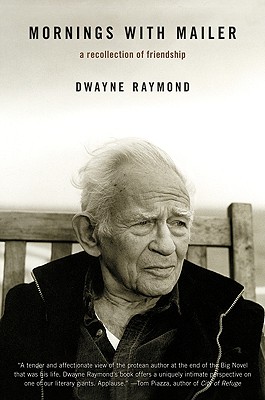 Mornings with Mailer (Paperback)
A Recollection of Friendship
Harper Perennial, 9780061733598, 352pp.
Publication Date: January 26, 2010
* Individual store prices may vary.
Description
"Mornings with Mailer is a tender and affectionate view of the protean author at the end of the Big Novel that was his life. Dwayne Raymond's book offers a uniquely intimate perspective on one of our literary giants. Applause." — Tom Piazza, author of City of Refuge
"In this moving memoir, Dwayne Raymond provides an intimate look at the daily routine of a great writer in the last years of his life." — Doris Kearns Goodwin, Pulitzer Prize-winning author of Team of Rivals
Mornings with Mailer is the revealing memoir by Dwayne Raymond, the man who worked as Norman Mailer's personal assistant during the last five years of the iconic author's life. Recasting the legendary writer of such classics as The Naked and the Dead and The Executioner's Song in a new light, Mornings with Mailer describes the powerful bond that formed between him and Raymond from April 2003 until Mailer's death in November 2007.
About the Author
Dwayne Raymond worked with Norman Mailer from April 2003 until Mailer's death in November 2007. Raymond contributes regularly to the Huffington Post, and has written for The New York Times Brief Guide to Essential Knowledge, The Mirror, In Newsweekly, and The Boston Reader. He lives in Provincetown, Massachusetts.
Praise For Mornings with Mailer: A Recollection of Friendship…
"So tender and funny that you don't even have to be a Norman Mailer fan to be moved by it...You just have to be a fan of great men, valiantly facing the decline of their powers until they become, against their will, examples to us all."
— Esquire

"Charming and poignant....From a firsthand observer like Raymond, you get a view of a writer you simply don't from a more formal biography."
— San Diego Union-Tribune

"Tender...An illuminating look at the mind and methods of a Pulitzer Prize winner."
— Boston Globe

"Refreshingly, critically candid...The book is a quick 340 pages that could be read in a hurry or just as easily savored, digested, and considered."
— Cape Cod Life

"Mornings with Mailer is an affectionate recollection of Raymond's time with Mailer…Of course, Raymond spent more than just mornings with Mailer, and the book describes the small moments with great warmth."
— Cape Cod Times

"A frank and tender account...Enlightening, rooted in the accumulation of everyday detail, from which a meticulous, deeply sympathetic portrait of Mailer emerges.
— Out Magazine

"Mornings With Mailer is a tender and affectionate view of the protean author at the end of the Big Novel that was his life. Dwayne Raymond's book offers a uniquely intimate perspective on one of our literary giants. Applause."
— Tom Piazza, author of City of Refuge

"In this moving memoir, Dwayne Raymond provides an intimate look at the daily routine of a great writer in the last years of his life. Raymond poignantly describes how Mailer fought like a lion to continue writing even as age and illness slowed him down."
— Doris Kearns Goodwin, Pulitzer Prize-winning author of Team of Rivals

"Dwayne Raymond adds another dimension to our appreciation of a great man's genius, the paradoxes of his genial belligerence, his obstinacy at once maddening and endearing, and his unaffected originality. This is a fascinating touching memoir, and often funny too."
— Harry Evans, New York Times bestselling author of They Made America