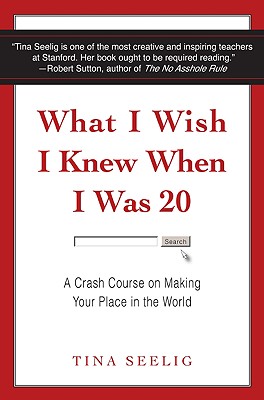 What I Wish I Knew When I Was 20 (Hardcover)
A Crash Course on Making Your Place in the World
HarperOne, 9780061735196, 208pp.
Publication Date: April 14, 2009
Other Editions of This Title:
Paperback (5/7/2019)
Hardcover, Japanese (3/1/2010)
Paperback (9/1/2009)
Paperback (6/1/2010)
* Individual store prices may vary.
Description
A revised and updated edition of the international bestseller
Inspiring readers all over the globe to reimagine their future, this revised and updated edition of What I Wish I Knew When I Was 20 features new material to complement the classic text.
Major life transitions such as leaving the protected environment of school or starting a new career can be daunting. It is scary to face a wall of choices, knowing that no one is going to tell us if we make the right decision. There is no clearly delineated path or recipe for success. Even figuring out how and where to start can be a challenge.
As head of the Stanford Technology Ventures Program, Tina Seelig's job is to guide her students as they make the difficult transition from the academic environment to the professional world—providing tangible skills and insights that will last a lifetime. Seelig is a wildly popular and award-winning teacher and in What I Wish I Knew When I Was 20 she shares with us what she offers her students –provocative stories, inspiring advice, and a big dose of humility and humor.
 
These pages are filled with captivating examples, from the classroom to the boardroom, of individuals defying expectations, challenging assumptions, and achieving unprecedented success. Seelig throws out the old rules and provides a new model for reaching our potential.  We discover how to have a healthy disregard for the impossible; how to recover from failure; and how most problems are remarkable opportunities in disguise.
 
What I Wish I Knew When I Was Twenty is a much-needed book for everyone looking to make their mark in the world.
About the Author
Tina Seelig earned her Ph.D. in neuroscience from Stanford University Medical School and is Professor of the Practice in the Department of Management Science and Engineering at Stanford's School of Engineering and executive director of the Stanford Technology Ventures Program. She is the international bestselling author of What I Wish I Knew When I Was 20 and inGenius: A Crash Course on Creativity. In 2009, Seelig was awarded the prestigious Gordon Prize from the National Academy of Engineering for her pioneering work in engineering education. Follow her on Twitter at @tseelig.
Praise For What I Wish I Knew When I Was 20: A Crash Course on Making Your Place in the World…
"Tina Seelig is one of the most creative and inspiring teachers at Stanford. Her book ought to be required reading. I wish I had read it when I was 20... and again at 50."
— Robert Sutton, Stanford University Professor and author The No-Asshole Rule

"Anybody who wants to live an entrepreneurial life filled with purpose and passion needs to read this book. It's chockfull of practical tools and tips to bring out the best in each of us."
— Steve Case, Chairman of Revolution and The Case Foundation, and co-founder of AOL

"Forget 20--This is the kind of stuff I wish I knew now... Tina is doing us all a big favor by giving us a roadmap to life!"
— Guy Kawasaki, co-founder of Alltop and author of Reality Check

"Tina is the most inspirational creativity voice I know. Her book is much better than a whack on the side of your head. It's a whack on the side of your soul!"
— Geoffrey Moore, Author, Crossing the Chasm, Dealing with Darwin

"Few people have done as much to champion innovative thinking as Tina Seelig. The principles in her book will surely spark new ideas. It is a must-read for the next generation of entrepreneurs and seasoned veterans alike."
— David Kelley, Founder IDEO

"Wise, witty and packed with stories of those who are making a difference and some who are making a fortune...The only trouble is that you will need two dozen copies to give to everyone."
— Patricia Ryan Madson, author of Improv Wisdom: Don't Prepare, Just Show Up

"This is a great guide to moving in more exciting, creative, and fulfilling directions, written by a person who is an expert at doing so. But if Tina Seelig had known any more when she was 20, the world probably could not now contain her. "
— Jim Adams, Author, Conceptual Blockbusting

"Seelig is a sharp observer and a gentle and thoughtful writer. Recollections of her own circuitous career path, along with observations of behavior of friends, family, students and colleagues are fertile ground for her.
— Miami Herald

"True, it's written by a woman (a Stanford University professor, no less), but this 'crash course in making your way in the world' is full of realistic tips that help put things into perspective."
— Sacramento Bee

"It's almost impossible to read the first line of Tina Seelig's book and not grab pen and paper to jot down a river of pent-up ideas and possibilities . . . A galvanizing document, [it] gives us -- more than anything else -- permission to develop our dreams."
— Santa Cruz Sentinel