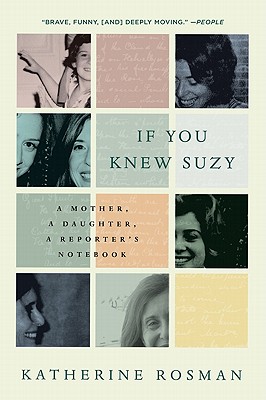 If You Knew Suzy (Paperback)
A Mother, a Daughter, a Reporter's Notebook
Harper Perennial, 9780061735240, 320pp.
Publication Date: April 19, 2011
Other Editions of This Title:
Hardcover (4/20/2010)
* Individual store prices may vary.
Description
"Katherine Rosman has a great gift for articulating the yearnings of daughterhood and the mysteries of motherhood."
— Jeffrey Zaslow, coauthor of The Last Lecture
"Katherine Rosman's voice rings with truth, pain, and hard-won humor as she reports from the heart in this bold, cathartic tale of a daughter's search to find meaning in her mother's death.... This book beats with a heart of its own."
— Janice Y.K. Lee, author of The Piano Teacher
In lively, intimate prose, Wall Street Journal culture reporter Katherine Rosman reconnects with her late mother by reporting on the life she led outside of her roles as mom and wife.
About the Author
A staff reporter for the Wall Street Journal, Katherine Rosman has written about popular culture for The New Yorker, the New York Times, and Elle magazine. A native of Michigan, she lives in New York with her husband and two children.
Praise For If You Knew Suzy: A Mother, a Daughter, a Reporter's Notebook…
"In this brave, funny, deeply moving memoir, [Rosman] shows readers how, even after death, love endures."
— People (3 ½ out of 4 stars)

"Rosman's bittersweet search for meaning is compelling and at times hilarious…. These stories are about Suzy but also about a daughter whose compassionate (not to mention labor-intensive) reporting is her way of coping. They memorialize a woman who, even if you didn't' know her, begs to be remembered."
— Elle

"More than mere memoir.... Rosman expertly counterbalances the bleak and grinding arc of her mother's cancer with an inspiring tale of her quietly extraordinary life, and does so with irreverent humor, bracing honesty and the storytelling savvy of a veteran reporter."
— Christopher Walton, Detroit Free Press

"Katie Rosman has a great gift for articulating the yearnings of daughterhood and the mysteries of motherhood. Reading her moving tale of discovery, we can't help but contemplate the things we have yet to learn about our own parents-and about ourselves."
— Jeffrey Zaslow, coauthor The Last Lecture

"Frank, funny, keenly reported, but also deeply moving, Rosman's book journeys into that mysterious territory-the nature of family and the substance of love."
— Susan Orlean, author of The Orchid Thief and The Bullfighter Checks Her Makeup

"After I picked up If You Knew Suzy, I couldn't put it down. Katherine Rosman's enthralling memoir presents a tender yet searching picture of a mother's life, her death, and her lasting influence on her daughters."
— Gretchen Rubin, author of The Happiness Project

"Rosman's voice rings with truth, pain, and hard-won humor. . . . [A] bold, cathartic tale of a daughter's search to find meaning in her mother's death. She tells of her mother's virtues and flaws with unvarnished honesty ... This book beats with a heart of its own."
— Janice Lee, author of The Piano Teacher

"If Katherine Rosman's detailed and heartfelt tribute to her mother doesn't make you want to hug your own, I don't know what will."
— Sloane Crosley, author of I Was Told There'd Be Cake and How Did You Get This Number?

"How marvelous to sit beside a daughter exploring her mother's life. If You Knew Suzy is about the joys of a family balanced by the heartbreaking complexities of death. Rosman is a dogged reporter whose eye for wonderful detail is enriched by the love and empathy of a devoted child."
— Isabel Gillies, author of Happens Every Day: An All-Too-True Story