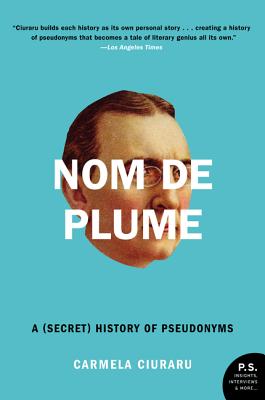 Nom de Plume (Paperback)
A (Secret) History of Pseudonyms
Harper Perennial, 9780061735271, 400pp.
Publication Date: May 29, 2012
Other Editions of This Title:
Hardcover (6/1/2011)
* Individual store prices may vary.
Description
MaryAnne Evans. Charles Dodgson. Eric Blair. William Sydney Porter. Or, as they aremore commonly remembered, George Eliot, Lewis Carroll, George Orwell, and O.Henry. For these writers and many others, from Mark Twain to Stan Lee to RobertJordan, the invocation of a nom de plume has been an essential part inthe creation of an authorial identity. Now, in a captivating series ofbiographical snapshots exploring the lives of famous authors and their pennames, author Carmela Ciuraru delivers a unique literaryhistory and a penetrating examination of identity, creativity, andself-creation, revisiting the enduring question—what's in a name?
About the Author
Carmela Ciuraru is not a pseudonym. Her anthologies include First Loves: Poets Introduce the Essential Poems That Captivated and Inspired Them and Solitude Poems. She is a graduate of Columbia University's School of Journalism and a member of the National Book Critics Circle. She has written for the Los Angeles Times, the San Francisco Chronicle, the Boston Globe, the Wall Street Journal, Newsday, Elle Decor, ARTNews, O, The Oprah Magazine, and other publications. She lives in Brooklyn.
Praise For Nom de Plume: A (Secret) History of Pseudonyms…
"Nom de Plume is filled with tremendous insight into the minds of these writers and their ability to create not only works of fiction within the covers of their books, but fictional lives for themselves as well....beautifully researched and deftly written-pure pleasure from cover to cover."
— New York Journal of Books

"Carmela Ciuraru's Nom de Plume deftly tells the stories of some of literature's most famous pen names. For anyone who creates the book will enthrall. As much a meditation on the creative process as it is a tell-all about their names and the intrigue that created them."
— Lisa Ko, author of The Leavers

"Nom de Plume is a fascinating collection of stories—populated by individuals whose 'doubleness' is so distinct that they acquire secondary personalities, and, in some notable cases, multiple personalities. It's a richly documented literary excursion into the inner, secret lives of some of our favorite writers."
— Joyce Carol Oates

"Stories of self-invention are always interesting to read about, especially in Carmela Ciuraru's Nom de Plume. Ciuraru's book presents a persuasive argument that the generative powers of the pseudonym should persist."
— The Daily

"This survey of authors who sought anonymity and privacy is well researched. Amid informative, illuminating profiles, Ciuraru successfully ferrets out curious literary charades."
— Publishers Weekly

"Ciuraru's treatments of her subjects sparkle with rich, well-arranged detail and the sly wit of literary hindsight. With a central focus that remains urgent and appealing for 21st century readers even as it dissects the personal lives of authors long past, Nom de Plume is surely an important book."
— Chelsea Now Magazine

"Nom De Plume is wildly entertaining, almost gossipy, but travels on the high end of the literary landscape. This book is beyond great."
— Bookazine

"Ciuraru's writing is bright, lively, and smart, making Nom de Plume both informative and extremely enjoyable to read. I strongly recommend this read for any fans of biography, especially writers, and perhaps even more especially, women writers."
— The Best Damn Creative Writing Blog

"A fascinating book on a fascinating subject. We all have other selves, but only some of us give them a name and let them loose in the world. Carmela Ciuraru steps behind a host of shadowy facades to interrogate the originals, and the result is both enlightening and wonderfully entertaining."
— John Banville, author of The Sea, winner of the Man Booker Prize

"Engaging without being breezy, informative without being pedantic, these essays offer insightful, fascinating literary portraits without the solemness and heft of so many literary biographies. Ciuraru gets to the essence of their lives efficiently and evocatively, which makes for pleasant and piquant summer literary non-fiction."
— The Reading Ape Blog

"What to make of the paradox that some of the boldest writers have hidden behind pen names? Carmela Ciuraru has performed a valuable service in examining the phenomenon through her charming, sprightly, and illuminating biographical essays."
— Phillip Lopate

"Nom de Plume is a delicious investigation of what leads the likes of the Brontës, Samuel Clemens, and Karen Blixen to ditch their names for safer, more romantic identities when they write. Whether their reasons are practical or mysterious, their lives and choices are here charmingly limned by Carmela Ciuraru."
— Honor Moore, author of The Bishop's Daughter

"Each page affords sparkling facts and valuable insights onto the manufacturing of books and reputations, the keeping and revealing of secrets, the vagaries of private life and public opinion, and the eternally mysterious, often tormented interface between life and literature."
— Elif Batuman, author of The Possessed: Adventures with Russian Books and the People Who Read Them

"...Ciuraru, a freelance literary journalist, writes well and has a fully functioning sense of humor, so "Nom de Plume" is a pleasure to read..."
— Jonathan Yardley, Washington Post Book World

"An engrossing, well-paced literary history…biography on the quick, and done well."
— BookForum

"Ms. Ciuraru…writes with clarity and confidence, and her research is impressive."
— Wall Street Journal

"You are on the second-to-last page of Carmela Ciuraru's NOM DE PLUME and wishing you weren't because this book is such great fun...Intelligent, confident, and trustworthy."
— San Francisco Chronicle

"Our curator is always having fun in 'Nom De Plume,' and, as a result, so are we."
— Jewish Daily Forward

"Fascinating, lively, and fun - you can't do much better than to read about George Sand, born Amandine-Aurore-Lucile Dupin, who adopted a swaggering male persona to go along with the name."
— Boston Globe

"With description that captures the imagination, Nom de Plume is what nonfiction should be - accessible, thought-provoking, and highly entertaining."
— Christian Science Monitor

"…'Nom de Plume' is part detective story, part exposé, part literary history, and an absorbing psychological meditation on identity and creativity. It's a delightful book."
— Huntington News

"Ciuraru builds each history as its own personal story, then builds the literary charm and genius behind the pathos, … a tale of literary genius all its own."
— Los Angeles Times
We are living in an era of made-up memoirs, semi-autobiographical fiction, social media such as Facebook and Twitter, and an ever-increasing number of "reality" TV shows. In a culture in which privacy is constantly being violated, threatened, and exposed, is it still possible to use a pseudonym without being discovered?
Think about some of the most common reasons why authors use pen names. What kind of protection do alter egos give them? Why is it that having a secret identity can prove so seductive?
Write your own name on a sheet of paper. What kind of history does it conjure for you? Do you feel ambivalence toward your name? Do you think your name reflects who you are?
The use of pseudonyms, in the traditional sense, has declined over the past several decades. Why do you think that's true? What, if anything, does it say about our culture?
Do you think that inhabiting another identity to write—whether fiction or nonfiction—is fundamentally dishonest? Do different rules apply for different genres? Is there an instance in which it's unacceptable for a writer to use a pen name?
As Isak Dinesen (Karen Blixen) once said, part of the allure of a nom de plume is to avoid answering personal questions, such as: Which part of your novel is drawn from real life? Which character is actually you in disguise? And so on. Do you think that readers have the right to the details of an author's life, even if the author writes fiction? Are authors obliged to "sell" themselves rather than letting work speak for itself?
How would you distinguish between the contemporary use of fake names online—pretending to be someone you're not—and the use of a pen name to publish a book? Is there a difference?
The author V. S. Naipual has stated that he always knows when he is reading a novel by a female author. Do any of the works by the pseudonymous female authors in this book (such as Alice Sheldon, who published science fiction as James Tiptree, Jr.) overturn that assumption? If so, how?
To what extent were the authors in this book exploring different personalities through their names? In the case of Samuel Clemens, how did Mark Twain provide a buffer against the darker side of his personal life?
Consider some of the nineteenth-century women writers featured in this book, such as the Brontës, George Sand, and George Eliot. How do you think their novels would have been received if they had not used pen names? What power did they gain by pretending to be men?
As a reader, is it important for you to know about the personal lives of your favorite authors? Why? How does having less (or more) information about an author affect your reading experience, if at all?
Have you ever wanted to use a pseudonym? If so, why? Would a secret identity allow you to write something that you would not otherwise attempt?