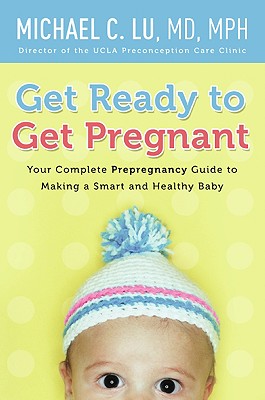 Get Ready to Get Pregnant: Your Complete Prepregnancy Guide to Making a Smart and Healthy Baby (Paperback)
Your Complete Prepregnancy Guide to Making a Smart and Healthy Baby
William Morrow & Company, 9780061740305, 340pp.
Publication Date: April 21, 2009
Description
Doctors and researchers are increasingly learning that by the time a woman gets pregnant, she may have already missed a critical window of opportunity to give her baby the best start in life. In this friendly and authoritative guide, Dr. Michael C. Lu, an expert in the field, offers a step-by-step prepregnancy plan that will help you have a safer pregnancy and a smarter and healthier child.
Dr. Lu's plan explains how you can help prevent pregnancy complications such as gestational diabetes or preeclampsia, and minimize the likelihood of many childhood conditions, from asthma to autism. His expert advice includes:
Ten brain foods you should eat more
Ten toxic foods to avoid
Ten steps to strengthen your stress resilience
Ten steps to tune up your immune system
Ten steps to detoxify your environment
And much more
Praise For Get Ready to Get Pregnant: Your Complete Prepregnancy Guide to Making a Smart and Healthy Baby…
"This is the book that patients and doctors have been waiting for. Dr. Lu has pulled together a huge amount of critical information to help families prepare for pregnancy."
-Laura E. Riley, MD, Medical Director of Labor and Delivery, Massachusetts General Hospital and Author of You and Your Baby: Pregnancy

"Dr. Lu's pregnancy preparedness program is essential for every couple thinking about getting pregnant."
-Alan Fleischman, MD, Senior Vice President and Medical Director of the March of Dimes Foundation

"This information is invaluable and a 'must read' for anyone planning to get pregnant in the 21st century."
-Alan H. DeCherney MD, Editor-in-Chief, Fertility and Sterility

"Dr. Lu provides a smart, evidence-based approach to help would-be parents understand how the decisions they make before getting pregnant can have a lasting impact on their children's lives."
-Linda Rosenstock, MD, MPH, Dean, UCLA School of Public Health
Advertisement