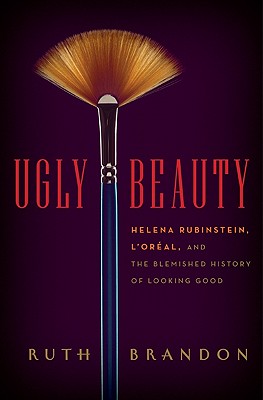 Ugly Beauty (Hardcover)
Helena Rubinstein, L'Oréal, and the Blemished History of Looking Good
Harper, 9780061740404, 304pp.
Publication Date: February 1, 2011
Other Editions of This Title:
Paperback (3/1/2012)
* Individual store prices may vary.
Description
From acclaimed novelist and cultural historian Ruth Brandon comes a captivating dual biography of the legendary founders of the cosmetics industry, Helena Rubinstein and Eugène Schueller, creator of L'Oréal. Brandon's gripping and sometimes disturbing story of gender, power, and politics stretches back from the darkest days of World War II, to the emergence of the modern fashion and makeup industries, with magazines such as Vogue and Cosmopolitan and game-changing product lines such as Avon and Mary Kay. Ugly Beauty resonates as well with its implications for modern culture, as we enter an era when haute couture and cosmetology exert an ever more powerful influence upon society at large.

About the Author
Ruth Brandon is a cultural historian and biographer. She has also written five detective stories and two literary novels. Brandon lives in London with her husband, art historian Philip Steadman.
Praise For Ugly Beauty: Helena Rubinstein, L'Oréal, and the Blemished History of Looking Good…
"Ruth Brandon is that rarest of historians who make a sophisticated and surprising argument and tell a great yarn at the same time."
— Malcolm Gladwell, The New Yorker

"The book is loaded with juicy details about Schueller and Rubenstein...But Brandon's bigger argument is that the modern beauty industry can be explained by the politics and practices of these two originally divergent companies. And she's convincing."
— New York magazine

"Ugly Beauty is a cut above...Brandon offers sharp, certain and concise writing, with few wasted words or tangents."
— New York Times Book Review

"Ruth Brandon is one of our most wide-ranging and accomplished cultural historians."
— Washington Post

"Ugly Beauty includes moments of engrossing liveliness."
— Wall Street Journal

"[Ugly Beauty] is a fantastic account of the scandalous history behind L'Oreal, the world's largest beauty company. Brandon uses the conflict to question the standards of beauty and the role politics and business play in that arena. A good read."
— Forbes

"Equal parts cultural history and journalistic exposé, Ugly Beauty is compulsively readable and intentionally disturbing. Pretty on the outside, as Brandon shows us, does not necessarily mean pretty on the inside."
— BookPage

"A rich chronicle of two entrepreneurs working in what was then a startling new industry, as well as a sharp examination of the interplay between individual, business, and political morality."
— Boston Globe

"[Ugly Beauty] is a fascinating read…a richly rewarding social and cultural history."
— Dallas Morning News

"With wonderful attention to detail and real affection for her subjects, Brandon tells the story of Helena Rubinstein, a Polish Jew from a poor family who became the first woman tycoon and self-made millionaire. [A] lively history of the founding of the beauty business as we know it."
— Publishers Weekly (starred review)

"Ugly Beauty is wonderfully panoramic in scope and reveals how long the shadow of fascism and the Second World War remains in French cultural politics and the billion-dollar world of the beauty industry. Ruth Brandon tells a fascinating story about the price of smoothing over history's still-raw blemishes."
— Tilar J. Mazzeo, author of The Widow Clicquot and The Secret of Chanel No. 5

"A deep, probing account...This engaging book should appeal not only to beauty enthusiasts but also to students of corporate histories who will relish the compelling aspects of the unlikely crossing of paths of two hugely successful entrepreneurs."
— Library Journal

"The life of Rubinstein is an astounding tale of invention and sheer drive."
— Kirkus Reviews

"Required Reading"
— New York Post

"An incisive history of cosmetics tycoon Helena Rubinstein and Eugene Schueller, the founder of L'Oreal."
— Bloomberg News

"Brandon's book is most successful when she writes about the yin and yang of her two protagonists...definitely worth reading."
— Sunday Times (London)
or
Not Currently Available for Direct Purchase