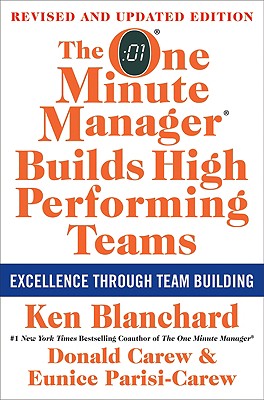 The One Minute Manager Builds High Performing Teams (Hardcover)
New and Revised Edition
William Morrow, 9780061741203, 128pp.
Publication Date: March 24, 2009
Other Editions of This Title:
Hardcover (4/1/2006)
* Individual store prices may vary.
Description
Newly updated and backed by decades of research, this classic guide will equip leaders and team members alike to unleash the power of teamwork.
Never before in the history of the workplace has the concept of teamwork been more important to the functioning of successful organizations. Ken Blanchard, bestselling coauthor of Raving Fans, The One Minute Manager® and Gung Ho!, teams up with Donald Carew and Eunice Parisi-Carew to explain how all groups move through four stages of development on their way to becoming high performing teams—orientation, dissatisfaction, integration and production. The authors then show how a manager can help any group become effective quickly and with a minimum of stress.
About the Author
Ken Blanchard, PhD, is one of the most influential leadership experts in the world. He has co-authored 60 books, including Raving Fans and Gung Ho! (with Sheldon Bowles). His groundbreaking works have been translated into over 40 languages and their combined sales total more than 21 million copies. In 2005 he was inducted into Amazon's Hall of Fame as one of the top 25 bestselling authors of all time. The recipient of numerous leadership awards and honors, he is cofounder with his wife, Margie, of The Ken Blanchard Companies®, a leading international training and consulting firm.
Eunice Parisi-Carew is a recognized leader in team building, leadership and organizational change. A former faculty member at the University of Hartford and American University, she is also cocreator of the High Performing Teams product line offered by The Ken Blanchard Companies. Currently she is senior researcher with the Office of the Future at The Ken Blanchard Companies, studying future trends and their implications for leaders, organizations and business practices.
Don Carew has earned a reputation as a top authority on group dynamics and team building. He is a professor emeritus at the University of Massachusetts, where he directed and taught in the graduate program on organization development from 1965 to 1994. He is a founding consulting partner of The Ken Blanchard Companies and a cocreator of the company's High Performing Teams product line.