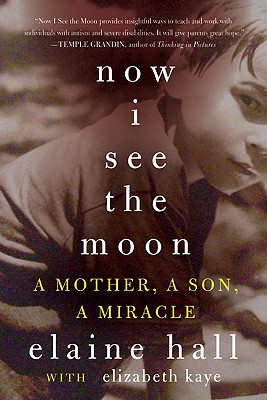 Now I See the Moon: A Mother, a Son, a Miracle (Hardcover)
A Mother, a Son, a Miracle
Harper, 9780061743801, 304pp.
Publication Date: July 1, 2010
* Individual store prices may vary.
or
Not Currently Available for Direct Purchase
Description
When her son, Neal, was diagnosed with autism, former Hollywood acting coach Elaine Hall, aka Coach E, took matters into her own hands and used her resources to guide him toward an increasingly independent life. In the process, she founded The Miracle Project, a groundbreaking organization that uses the performing arts to connect with children with autism. Both controversial and unorthodox, Hall's innovative approach has been praised by leaders in the field of autism, including Temple Grandin, Barry Prizant, and Dr. Stanley Greenspan. She was also the subject of the Emmy Award–winning documentary Autism: The Musical. Hall now speaks around the country sharing her wisdom. Now I See the Moon is a story of hope, faith, and miracles; it is a story only a mother could tell.
Praise For Now I See the Moon: A Mother, a Son, a Miracle…
"Inspirational and realistic, Now I See the Moon shows how real progress can be made in the life of a child. So many of Elaine's experiences reminded me of my own family's struggle, as we search to find answers that will bring us closer to solving the mysteries of autism."
-Suzanne Wright, cofounder of Autism Speaks

"Now I See the Moon provides insightful ways to teach and work with individuals with autism and severe disabilities. It will give parents great hope."
-Temple Grandin, author of Thinking in Pictures

"Now I See the Moon isa riveting and miraculous ride. Elaine Hall weaves her incredible story in a gutsy, inspirational, painful, hilarious, but always honest manner...overflowing with moments that realistically convey the agony of autism, as well as the gifts autism brings."
-Barry M. Prizant, Director of Childhood Communication Services, and Adjunct Professor in the Center for the Study of Human Development, Brown University

"Now I See the Moon is a beautiful story about a Mother's love, a boy's depth, and the transformative power of hope. Her son Neal is an inspiration and a miracle. I encourage every parent to read this wonderful book; It will change the way you think about autism."
-Rabbi Bradley Shavit Artson, Dean of the Ziegler School of Rabbinic Studies at the American Jewish University and author of The Bedside Torah

"In her courageously candid memoir, Elaine describes the challenges and rewards of parenting a child with autism. She usefully explains how she's expanded her son's world through theatre and play. Most of all, Elaine describes the human heart. And how rising to meet the challenges of love will grow it."
-Janet Grillo, executive producer of Autism: The Musical

"Now I See the Moon is must reading for anyone connected with a child who has special needs. A beautiful example of love and determination. It is also an inspiration to all women going through life transitions and learning to connect with and trust their inner guidance."
-Dr. Margaret Paul, author of Do I Have to Give Up Me to Be Loved by You

"Elaine Hall's Miracle Project is a "miracle"—a miracle of ingenuity, human intimacy, and creativity. This magnificent work vividly demonstrates the joy and hope of discovering the creative and emotional capacities which exist in all children, but especially in those children with autism and other special needs."
-Dr. Stanley Greenspan, author of The Child with Special Needs and Engaging Autism

"Enlightening…timely, painstakingly positive...[Hall] beautifully chronicles Neal's development. She created her life's work in the Miracle Project, a theater arts program for autistic kids"
-Publishers Weekly (starred review)

"Elaine Hall has a written a book of shimmering honesty. The generosity of her telling made me grateful, inspired, proud, and at times, awe-struck. Anyone interested in the human journey should read this book. I look forward to offering it, like a torch, to my favorite people."
-Ilana Trachtman, director of Praying with Lior

"Above all else, Elaine has written a book about the power of faith—faith in God, in the universe, in Neal and ultimately herself. It is because of her faith that Elaine stays positive, but it is because of Neal that she realizes that the miracle is in the journey."
-Linda Walder Fiddle, Founder and Executive Director of The Daniel Jordan Fiddle Foundation

"Many books about autism are either instructive but clinical, inspiring but not informative. Now I See The Moon is that rare combination: it reads like an inspirational tale, yet it educates and advances important issues. Elaine is at once a guide, a counselor, an educator, and a truly inspiring mom."
-Erik Linthorst, Director of the film Austistic-Like: Graham's Story

"A brilliant, spiritual journey filled with out-of-the-box creativity, love and passion. Elaine Hall's voice lingers long after turning the last page, inspiring powerful living despite any and all challenges. Best read with milk and warm gluten-free cookies."
-Keri Bowers, director of Normal People Scare Me

"A moving, unvarnished look at living with autism and a helpful guide to action."
-Kirkus Reviews

"Elaine Hall is a miracle worker with kids who face special challenges. She has an intuitive, creative connection with them, which together they put into theater and film with profound results for the kids and their families. Our family experienced this first hand. Her story is powerful and inspiring."
-David O. Russell, director of Three Kings, I Heart Huckabees, and The Fighter

"How many nonverbal children with autism can understand every word we are saying? Elaine Hall tells us one such story in her heart-rending and beautifully written book, Now I See the Moon. Anyone who reads her book will find their own life illuminated by the experience."
-Portia Iverson, founder of Cure Autism Now and author of Strange Son

"An amazing story written by an indomitable woman and an important book for anyone wanting to nurture and appreciate the special gifts of autistic children."
-BookPage

"This serene and spiritual account of bringing up a shrewd, loveable and intelligent autistic boy also sparkles with the exuberant tale of how Elaine founded The Miracle Project, a terrific theatre group for autistic and 'typical' kids alike. The book goes far beyond 'brave,' and well into 'spectacular.'"
-Carolyn See, author of Making a Literary Life

"Elaine Hall must have been granted a magical visa into the world of children. She understands their wants, their fears, their dreams. Now I See the Moon is the story of a mother's awesome love for her son. And how art and music can be coaxed from silence."
-Doug Atchison, writer and director of Akeelah and the Bee

"Underlying all her work and life is Elaine's deep spirituality, her love for kids, and her respect for all. That is Elaine's great lesson and her gift to all who read her: accept children where ever they are. Meet them there. Then, take a journey of growth and community together."
-Alice Dewey Goldstone, producer of Hercules, Walt Disney Studios

"In Now I See the Moon Elaine Hall leads us on a journey to blessings, uplift and hope. In a voice filled with wisdom, she quickly becomes our coach—that unique person who teaches us the power of persistence, resiliency, faith, and love. This book is a revelation, a miracle."
-Naomi Levy, author of To Begin Again and Talking to God

"Elaine Hall yanks the reader out of preconceived notions of what having a child with autism means. This book is for anyone wishing to learn about the potential autism has to bring out the best in people—and for developing a deeper appreciation of what true humanity is all about."
-Stephen Shore, professor of special education and author of Beyond the Wall
Advertisement