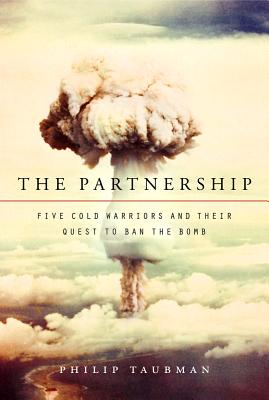 The Partnership (Hardcover)
Five Cold Warriors and Their Quest to Ban the Bomb
Harper, 9780061744006, 496pp.
Publication Date: January 1, 2012
* Individual store prices may vary.
Description
Offering a clear analysis of the danger of nuclear terrorism and how it can be prevented, The Partnership sheds light on one of the most divisive security issues facing Washington today. Award-winning New York Times journalist Philip Taubman illuminates our vulnerability in the face of this pressing terrorist threat--and the unlikely efforts of five key Cold War players to eliminate the nuclear arsenal they helped create. Bob Woodward calls The Partnership a "brilliant, penetrating study of nuclear threats, present and past," and David Kennedy writes that it is "indispensable reading for all who would understand the desperate urgency of containing the menace of nuclear proliferation."

Praise For The Partnership: Five Cold Warriors and Their Quest to Ban the Bomb…
"A fascinating, haunting book. . . . Even for skeptics, Taubman's book provides an important public service by concentrating on nuclear perils that continue to slip our day-to-day notice. . . . Thought-provoking."
-The New York Times Book Review

"A fascinating portrait of an unlikely coalition of disarmament crusaders . . . . Mr. Taubman describes in chilling detail the threat of these terrible weapons falling into the worst possible hands."
-The Wall Street Journal

"An even-handed look at a convoluted history that is still unfolding. . . . Taubman does a clean job of reducing the elements to layman's terms. . . . Taubman had unparalleled access to the five men profiled here. . . . It makes for intriguing reading."
-The Los Angeles Times

"Taubman ably revisits many of the classic set pieces of the Cold War-the Cuban missile crisis, the Jasons scientific-advisory team, the nuclear alert during the 1973 Arab-Israeli war, and the 1986 Reagan-Gorbachev summit at Reykjavik."
-The San Francisco Chronicle

"This brilliant, penetrating study of nuclear threats is in the tradition of David Halberstam and Neil Sheehan. Taubman has, perhaps as importantly, unlocked the history of the war we never had. Readers will tremble at the dangers the world has faced and still faces today."
-Bob Woodward

"Taubman provides a cogent and chilling summary of the threat of nuclear weapons in the twenty-first century."
-The Pittsburgh Post-Gazette

"The Partnership artfully weaves the threads of five notable lives into a fascinating account of nuclear strategizing over the last five decades. This unfailingly compelling narrative is indispensable reading for all who would understand the desperate urgency of containing the menace of nuclear proliferation."
-David Kennedy, Professor of History Emeritus, Stanford University

"A richly detailed account of one of the most important issues of our time, The Partnership should be on the bedside of every presidential candidate, national affairs journalist and engaged citizen."
-Tom Brokaw
or
Not Currently Available for Direct Purchase