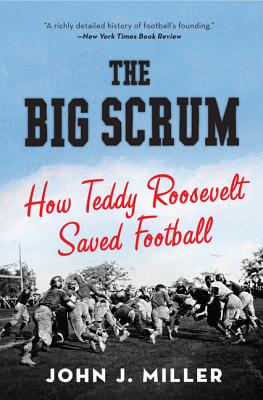 The Big Scrum: How Teddy Roosevelt Saved Football (Paperback)
How Teddy Roosevelt Saved Football
Harper Perennial, 9780061744525, 272pp.
Publication Date: April 17, 2012
Description
John J. Miller delivers the intriguing, never-before-told story of how Theodore Roosevelt saved American Football--a game that would become the nation's most popular sport. Miller's sweeping, novelistic retelling captures the violent, nearly lawless days of late 19th century football and the public outcry that would have ended the great game but for a crucial Presidential intervention. Teddy Roosevelt's championing of football led to the creation of the NCAA, the innovation of the forward pass, a vital collaboration between Walter Camp, Charles W. Eliot, John Heisman and others, and, ultimately, the creation of a new American pastime. Perfect for readers of Douglas Brinkley's Wilderness Warrior, Michael Lewis's The Blind Side, and Conn and Hal Iggulden's The Dangerous Book for Boys, Miller's The Big Scrum reclaims from the shadows of obscurity a remarkable story of one defining moment in our nation's history.
Praise For The Big Scrum: How Teddy Roosevelt Saved Football…
"Football enthusiassts and Theodore Roosevelt admirers will both enjoy and learn from these little-known but important historic events that preserved from extinction one of America's favorite sports."
-Tweed Roosevelt, president of the Theodore Roosevelt Association

"In Miller's hands, the story of Theodore Roosevelt's love for, and defense of, 'the great game' has as much vigor and passion as Roosevelt himself. It's a fascinating and thoroughly American tale."
-Candice Millard, author of The River of Doubt

"A worthy addendum to the story of football's rise . . . [and] a good yarn."
-Kirkus

"[Miller] is on target with a necessarily selective biography highlighting Roosevelt's lifelong affinity for sports and physical activity, thereby providing context for understanding why a president would devote valuable time to what was then a minor sport. [An] enjoyable history of a seldom-explored turning point in American sports history."
-Booklist
Advertisement