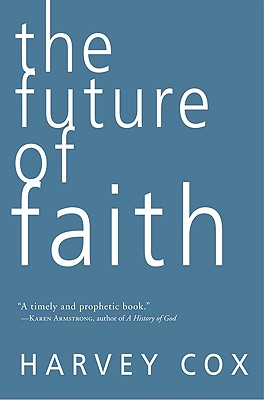 The Future of Faith (Hardcover)
HarperOne, 9780061755521, 256pp.
Publication Date: September 8, 2009
Other Editions of This Title:
Digital Audiobook (5/16/2011)
Paperback (10/5/2010)
* Individual store prices may vary.
Description
"A beautiful book and a Cox classic….Readers will be grateful that they joined him on his journey." —E.J. Dionne Jr., author of Souled Out
"Insightful, provocative, and inspiring—I even found myself uttering a hearty evangelical 'Amen!'" —Richard Mouw, President, Fuller Theological Seminary, and author of Calvinism in the Las Vegas Airport
The Future of Faith is Harvard religion scholar Harvey Cox's landmark exploration of why Christian dogmatism is giving way to a grassroots Christianity rooted in social justice and spirituality. Cox laid the groundwork for modern religious writing with his 1965 classic, The Secular City, paving the way for writers like Diana Butler Bass, Karen Armstrong, Stephen Prothero, and Deepak Chopra, who calls The Future of Faith "a fresh vision for the resurrection of a new global Christianity."
About the Author
Harvey Cox is the Hollis Research Professor of Divinity at Harvard University, where he has taught since 1965, both at Harvard Divinity School and in the Harvard Fac- ulty of Arts and Sciences. His classic book The Secular City is widely regarded as one of the twentieth century's most influential books of Protestant theology. He is also the author of The Future of Faith. Cox lives in Cambridge, Massachusetts.
Praise For The Future of Faith…
"At this crucial turning point in history, Harvey Cox reminds us of essential religious values and imperatives . . . A timely and prophetic book"
— Karen Armstrong, author of A History of God

"For the last four decades, Harvey Cox has been the leading trend spotter in American religion."
— Stephen Prothero, author of Religious Literacy

"The Future of Faith is insightful, provocative, and inspiring—I even found myself uttering a hearty evangelical "Amen" at many points!"
— Richard Mouw, President of Fuller Theological Seminary and author of Calvinism in the Las Vegas Airport

"This important book has not only helped me understand the past, present, and future of this amazing phenomenon called Christianity ... it has also motivated me to keep working to help make actual the possible future Cox envisions." 
— Brian McLaren, author of A New Kind of Christian

"Harvey Cox has been a voice of both reason and faith in our cynical times. Now, he offers  a fresh vision for the resurrection of a new global Christianity that will restore our faith both in ourselves and the divine."
— Deepak Chopra, author of Jesus: A Story of Enlightenment

"The Future of Faith is a tour de force. As passionate and challenging as his classic, The Secular City, Cox's new book invites the faithful, the skeptical, and the fearful into a spirit-filled vision of Christianity that can renew a hurting world."
— Diana Butler Bass, author of A People's History of Christianity

"With typical brilliance and lively insight, Cox explores questions in a dazzling blend of memoir, church history and theological commentary . . . Cox remains our most thoughtful commentator on the religious scene, and his spirited portrait of our religious landscape challenges us to think in new ways about faith."
— Publishers Weekly

"Celebrated religious scholar Cox argues that we are witnessing the dawn of a third epoch in Christian history . . . Cox's work is intriguing, and there is certainly truth in his observations about global Christianity and the rise of Pentecostalism and liberation theology."
— Kirkus Reviews

"A lucid and congenial book . . . [Cox] is not alone, but he is most cogent, in thinking that the content of Christian faith is becoming more like that of the early church . . . A book full of good news."
— Kirkus Reviews (starred review)

"With its overarching themes, Cox's new book can be viewed as the culmination of his life's scholarship."
— Boston Globe
or
Not Currently Available for Direct Purchase