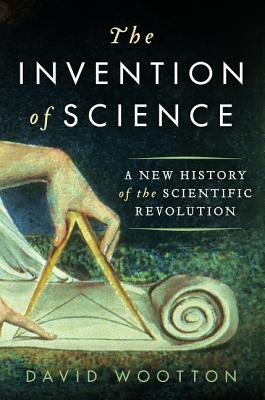 The Invention of Science
A New History of the Scientific Revolution
Hardcover

* Individual store prices may vary.
Other Editions of This Title:
Digital Audiobook (4/25/2016)
Digital Audiobook (4/25/2016)
Paperback (12/13/2016)
Compact Disc (4/26/2016)
MP3 CD (4/26/2016)
Compact Disc (4/26/2016)
Description
A companion to such acclaimed works as The Age of Wonder, A Clockwork Universe, and Darwin's Ghosts—a groundbreaking examination of the greatest event in history, the Scientific Revolution, and how it came to change the way we understand ourselves and our world.
We live in a world transformed by scientific discovery. Yet today, science and its practitioners have come under political attack. In this fascinating history spanning continents and centuries, historian David Wootton offers a lively defense of science, revealing why the Scientific Revolution was truly the greatest event in our history.
The Invention of Science goes back five hundred years in time to chronicle this crucial transformation, exploring the factors that led to its birth and the people who made it happen. Wootton argues that the Scientific Revolution was actually five separate yet concurrent events that developed independently, but came to intersect and create a new worldview. Here are the brilliant iconoclasts—Galileo, Copernicus, Brahe, Newton, and many more curious minds from across Europe—whose studies of the natural world challenged centuries of religious orthodoxy and ingrained superstition.
From gunpowder technology, the discovery of the new world, movable type printing, perspective painting, and the telescope to the practice of conducting experiments, the laws of nature, and the concept of the fact, Wotton shows how these discoveries codified into a social construct and a system of knowledge. Ultimately, he makes clear the link between scientific discovery and the rise of industrialization—and the birth of the modern world we know.
Praise For The Invention of Science: A New History of the Scientific Revolution…
"Wootton is a dazzling explicator of difficult ideas whose relish for his material is evident."
— Matthew Price, the Boston Globe

"Wootton tells his tales well and portrays characters vividly. He writes with wit, and his book is full of surprises."
— Robert P. Crease, The Wall Street Journal

"Masterly. . . .  A fantastic revisionist history, an intellectual feat and a marvelous attack on those academics who believe that "retrospective history" — written with the outcome in mind — is wrong. It's utterly refreshing to read a grand, whooping narrative that is also exhaustively researched. It will, I am certain, become a landmark in the discipline of the history of science."
— Financial Times' Best Books of 2015

"New, encyclopedic history."
— Adam Gopnik, the New Yorker

"Full of insights…even jaded scholars will find it fresh and compelling."
— The Economist

"Perceptive, thought-provoking, deeply erudite and beautifully written."
— Nature

"Vibrant and impressive…The Invention of Science is a marvel of expositional clarity"
— Steve Donoghue, The Christian Science Monitor

"Not only a history of science but a revisionist historiography of science"
— Steven Poole, The New Statesman

"A big bang moment"
— Lorraine Daston, The Guardian

"Extremely well researched and documented…This is bound to become a basic reference in the future."
— Adhemar Bultheel, the European Mathematical Society

"A bracing rediscovery of the marvel that is science"
— Booklist, starred review

"David Wootton's The Invention of Science is outstanding. It details how, when and why the philosophical, intellectual and practical frameworks of modern science arose, and it sees off relativism in the process. While dealing wonderfully in broad sweeps, it offers a wealth of entertaining details."
— Richard Joyner, Times Higher Education

"Fascinating and original … Wootton is a marvellous writer with an enviously encyclopaedic knowledge, and he has exciting things to say … a stimulating, well-informed and imaginative account."
— Patricia Fara, Literary Review

"A superbly lucid examination of a dramatic revolution in human thought that deserves a place on the shelf with Thomas Kuhn and David Deutsch."
— Kirkus Starred Review
Harper, 9780061759529, 784pp.
Publication Date: December 8, 2015
About the Author
David Wootton is the Anniversary Professor at the University of York. His previous books include Paolo Sarpi, Bad Medicine, and Galileo. He gave the Raleigh Lectures at the British Academy in 2008, the Carlyle Lectures at the University of Oxford in 2014, and the Benedict Lecture at Boston University in 2014.
or
Not Currently Available for Direct Purchase