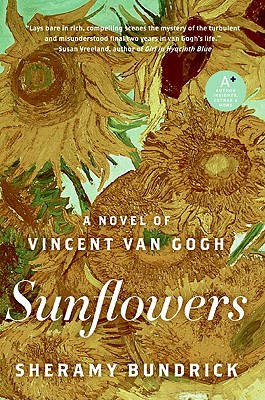 Sunflowers (Paperback)
William Morrow Paperbacks, 9780061765278, 432pp.
Publication Date: October 13, 2009
* Individual store prices may vary.
Description
In July 1888, in a public garden in Arles, France, Vincent van Gogh meets a young woman who will change his life forever. He came to Arles to escape the strains of Paris and find a different light for his painting. Meeting Rachel was the spark he needed to rededicate himself. Feeding off the energy of this fascinating woman, fighting the hopelessness deep inside him, Vincent throws himself into his work, .
Rachel, desperate to flee the shame of village scandal, is drawn to the loneliness she senses in this strange man. Filled with dreams and a love of life, Rachel strikes up an unexpected friendship with the mysterious foreigner. As she and Vincent grow closer, Rachel comes to believe that the man everyone gossips about could be the love she longs for.
But as time passes, she gains a deeper insight into a man struggling with personal demons. Can Vincent′s growing attachment to Rachel save him? And will Rachel find the strength to stand by a man she has come to care for deeply, even as he spirals into darkness?
About the Author
Sheramy Bundrick is an art historian and professor at the University of South Florida St. Petersburg. Sunflowers is her first novel.
Praise For Sunflowers…
"In a knockout debut novel...Bundrick brings Vincent VanGogh's paintings and personal story to vibrant life...an impressive volume of suspense, delight and heartbreak."
— Publishers Weekly (starred review)

"Bundrick's well-executed historical-fiction debut will appeal to readers interested in artists and the dark forces that shape their fates."
— Booklist

Sheramy Bundrick, an art historian writing her first novel, is up to the task. She conjures a poignant but ill-fated romance in 1888 Arles, France, between the mentally fragile painter and an obscure historical figure, a prostitute named Rachel. Fans of Girl With a Pearl Earring, take note.
— USA Today
Why do you think the author decided to have Vincent and Rachel meet in a garden? What significance does nature have in the story?
Perception versus reality is a theme of Sunflowers. What perceptions do strangers have about Vincent and Rachel? What perceptions do they have about each other when they first meet? How do their—and other people's—perceptions change as the novel proceeds? Do you feel your perception of van Gogh and his work has changed as a result of reading the novel?
When Rachel goes to the Café de la Gare to watch Vincent paint, she expects to see a beautiful picture. Why is she disappointed? Why do you think the author chose to have the first painting Rachel sees be "sinister and brooding"?
Why is Rachel reluctant to visit Vincent's house/studio at first? How does their relationship change when she does decide to visit? She remains reluctant to pose for him for most of the novel. Why do you think this is? Why does she change her mind?
Discuss Rachel's reaction when seeing Vincent's painting of sunflowers for the first time. Why does it hold such emotional appeal for her? Have you reacted strongly when seeing a work of art in a museum, whether by van Gogh or another artist? What is your favorite painting by van Gogh, and why?
Discuss the character of Paul Gauguin, remembering that we see him through Rachel's eyes in the novel. How do Rachel's feelings about Gauguin contrast with Vincent's? Why is she so wary of him? Are her suspicions justified?
Vincent's mental illness (believed by some scholars today to be bipolar disorder. manifests itself over the course of Gauguin's stay in Arles. Did you see hints of his illness before Gauguin's arrival that Rachel does not notice? What factors made it worsen, do you think?
How does Rachel cope with the dramatic and tragic events that happen in December 1888 and afterward? Twice in the novel before those events, she refers to girls "braver than I"—but is she braver than she thinks? Vincent is surprised Rachel continues to stand by him. Were you surprised? Was there ever a point in the story where you feel you'd walk away?
"Working is the only thing that does me real good," Vincent tells Rachel while he is in the asylum at Saint-Rémy, when she worries he works too hard on his painting. Do you agree? Why is Vincent so driven to create, even when he is most ill?
Why do you think the author chose letters between characters as a way to communicate key events? Did you find this method effective—why or why not?