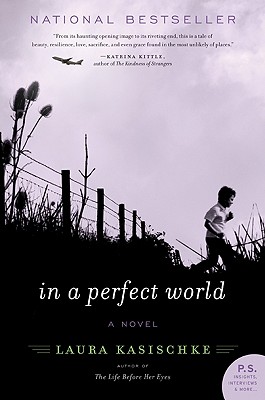 In a Perfect World
A Novel
Paperback

* Individual store prices may vary.
Praise For In a Perfect World: A Novel…
"Kasischke finds beauty amid the apocalypse in her timely seventh novel . . . Startling, sometimes violent images combine with strikingly dispassionate narration to create a fictional world where terror, beauty and chaos walk hand in hand."
— Publishers Weekly

"From its haunting opening image to its riveting end, this is a tale of beauty, resilience, love, sacrifice, and even grace found in the most unlikely of places. In a truly 'perfect world' every book I read would inspire me like this one."
— Katrina Kittle, author of The Kindness of Strangers

"IN A PERFECT WORLD reveals astonishing and tender insight into human nature while exposing a terrifying, yet believable, world I'd never before imagined. This story will grasp onto your heart before swiftly carrying you away."
— Jessica Anya Blau, author of The Summer of Naked Swim Parties

"[Kasischke]writes with worldly-wise profundity and sudden beauty but also sly humor . . .We're helplessly drawn in by a slew of burning questions, with this one foremost: When can we expect a sequel…or is that nothing but a doomed hope?"
— Elle

"This is a doomsday book in the form of a finely observed domestic drama, showing how dysfunctional relationships shift and soften in response to the looming menace . . . The reader may well come away with the odd, exhilarating feeling that a spell has both been cast and broken."
— Los Angeles Times
Harper Perennial, 9780061766114, 336pp.
Publication Date: October 6, 2009
About the Author
Laura Kasischke teaches in the MFA program at the University of Michigan. A winner of the National Book Critics Circle Award for poetry, she has published eight collections of poetry and ten novels, three of which have been made into films, including The Life Before Her Eyes.
Numerous fairytales are interwoven with the plot of In a Perfect World. What are some of these tales, and how do they function within the story? How might this novel be read, itself, as a kind of fairytale?
The unfolding of the love story between Jiselle and Mark is cut short with his quarantine and is soon overshadowed by her life with his children. How does this become its own romance, and in what ways does this shift comment on expectations regarding love and marriage?
How do you feel about the changes in Jiselle's character as the novel unfolds? How do you feel about the way she handles and reacts to the events of the novel, particularly the demands of step-motherhood?
Joy is a character who is never encountered in the novel, but who seems important nonetheless. How do you interpret her shadow-character, and how does Jiselle's 'relationship' to her change during the course of the novel?
The author researched the Black Death in writing this book. Which events seem historically familiar? Which details seem to parallel contemporary concerns and events? Does the plot seem more fabulist than realistic? Can you imagine the kind of future the author has imagined?
Did you see Mark as a sympathetic character? Was Jiselle foolish to marry him?
At which moments in the novel do we see Jiselle's relationship to the children changing? Do you feel that, at some points, they become 'her' children? If so, where in the novel does this seem to occur?
Jiselle and the children are very isolated in this novel. Does this seem realistic to you? How do you feel about the few additional characters who figure in it: Jiselle's mother, Paul Temple, Tara Temple, the Schmidts?
What does the title, In a Perfect World, say to you about the themes and structure of the novel?
Is this an apocalyptic novel? What is your interpretation of the ending?