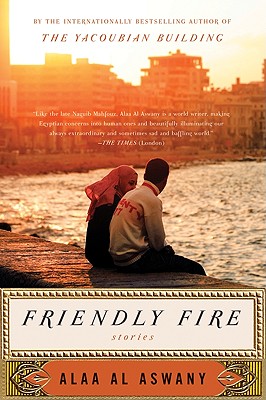 Friendly Fire (Paperback)
Harper Perennial, 9780061766633, 219pp.
Publication Date: September 15, 2009
Description
Friendly Fire, the first collection of short stories from Alaa Al Aswany, acclaimed author of Chicago and The Yacoubian Building, deftly explores the lives of contemporary Egyptians. Here are stories of generational conflict, corruption, repression, infidelity, and the dangerous clashing of western and Arab ideals, all beautifully rendered by Al Aswany, a true modern master and one of Egypt's "most exciting literary exports" (Minneapolis Star Tribune).
Praise For Friendly Fire…
"Al Aswany masterfully deciphers the forces behind social polarization over class, gender, race, religion, and politics, tracking the pendulum swings from sympathy to hate, dream to despair, sorrow to resignation, and refusing simple answers and tidy conclusions."
-Booklist

"A startling first collection, elegant yet pointedly sharp-tongued and sarcastic…. Al Aswany is an insightful student of the human condition whose trenchant characters evoke a weird hybrid of Albert Camus and Charles Bukowski; the strange landscape depicted is at once painful and playful, rich in meaning and understatement."
-Library Journal

"At times al-Aswany's stories are heartbreaking, at times they are uncomfortable, at times hilarious, but no matter what the mood, his work is always steeped in the greywater of humanity."
-Virginia Quarterly Review
Advertisement