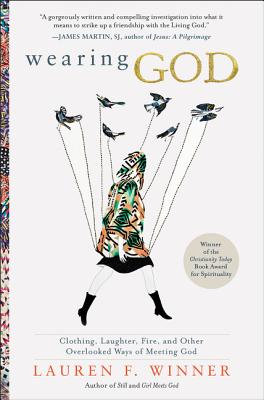 Wearing God (Paperback)
Clothing, Laughter, Fire, and Other Overlooked Ways of Meeting God
HarperOne, 9780061768132, 304pp.
Publication Date: April 5, 2016
Other Editions of This Title:
Hardcover (3/31/2015)
* Individual store prices may vary.
Description
Lauren F. Winner—a leading writer at the crossroads of culture and spirituality and author of Still and Girl Meets God—joins the ranks of luminaries such as Anne Lamott and Barbara Brown Taylor with this exploration of little known—and, so, little used—biblical metaphors for God, metaphors which can open new doorways for our lives and spiritualities.
There are hundreds of metaphors for God, but the church only uses a few familiar images: creator, judge, savior, father. In Wearing God, Lauren Winner gathers a number of lesser-known tropes, reflecting on how they work biblically and culturally, and reveals how they can deepen our spiritual lives.
Exploring the notion of God as clothing, Winner reflects on how we are "clothed with Christ" or how "God fits us like a garment." She then analyzes how clothing functions culturally to shape our ideals and identify our community, and ruminates on how this new metaphor can function to create new possibilities for our lives. For each biblical metaphor—God as the vine/vintner who animates life; the lactation consultant; and the comedian, showing us our follies, for example—Winner surveys the historical, literary, and cultural landscapes in order to revive and heal our souls.
About the Author
Lauren F. Winner is an ordained Episcopal priest and the author of numerous books, including Girl Meets God, Real Sex, Mudhouse Sabbath, and Still, which won the Christianity Today Book Award in Spirituality. She teaches at Duke Divinity School in Durham, North Carolina. Her articles have appeared in the New York Times Book Review, The Washington Post, The Wall Street Journal, Books & Culture, and other periodicals.
Praise For Wearing God: Clothing, Laughter, Fire, and Other Overlooked Ways of Meeting God…
"A gorgeously written and compelling investigation into what it means to strike up a friendship with the Living God."
— James Martin, SJ, author of Jesus: A Pilgrimage

"The images Lauren introduces me to in Wearing God have stayed with me, enriching my prayers and broadening my view of God. I love her writing, and this book is no exception."
— Shauna Niequist, author of Bread & Wine

"In Wearing God—a book both winsome and erudite—Winner convenes a salon of saints and biblical writers to reveal that God is much more than just Shepherd or King and far more interesting than we thought."
— Fred Bahnson, Wake Forest University School of Divinity, author of Soil and Sacrament: A Spiritual Memoir of Food and Faith

"Lauren's curiosity about the life of faith is so compelling—and her intelligence so engaging—that there is nothing more satisfying than settling down with a new book from her. The only problem is that it is impossible to read her without being changed; so advance at your own risk."
— Barbara Brown Taylor, author of Learning to Walk in the Dark

"Combining spiritual insight and beautifully descriptive prose . . . Winner looks at the ways God can be known through the everyday and familiar. [Her] honest, charming reflections stir the imagination and invite the reader to explore . . . the treasure trove the Bible provides."
— Publishers Weekly (starred review)

"If Christianity is to regain its credibility, or even its positive character, people are going to have to read books like this! Winner opens up Scripture in ways that are loyal to the Great Tradition, and yet readable, faith-filled, and applicable to the world we actually live in."
— Richard Rohr, O.F.M., author of Falling Upward

"Lauren Winner explores less familiar biblical descriptions of God and how each shapes the way we think about who God is. Wearing God is a warm, playful reflection that not only expands our understanding of God, but also highlights the delicate interweaving of language and imagination."
— Relevant Magazine

"With her trademark acerbic wit and wry honesty, Winner delves into a few seldom used biblical images for God. . . . A mixture of anecdotes and thought-provoking analysis, Wearing God proves a wise and appealing companion on the journey."
— Shelf Awareness

"Provides a playful and thoughtful excursion into fresh ways of seeing and savoring the Divine in the unfolding of our ordinary lives."
— Spirituality & Practice

" [An] appealing book . . . a thoughtful mediation on God, spirituality, and the fabric of life."
— Booklist

"Lauren Winner's Wearing God is playful, serious, informative, devotional, and as important as it is gratifying. . . . I read it with the sort of joy one feels when watching someone utterly hit their stride."
— Christian Century

"Winner is a gifted writer (and a voracious reader)."
— The Charlotte Observer

"[These] metaphors clarify and inspire. Winner, no iconoclast, has painted us some pictures worthy of veneration."
— Aleteia

"This book begs to be savored, to be revisited, to be slept with, prayed over, and pondered."
— RevGals

Winner parses centuries of people trying to make sense of God [and] deploys her lively spiritual imagination and bookworm sensibility to take us beyond cliché and into new territory. . . . She sees invitations to consider mystery where many of us see only a wall.
— The Rumpus.com