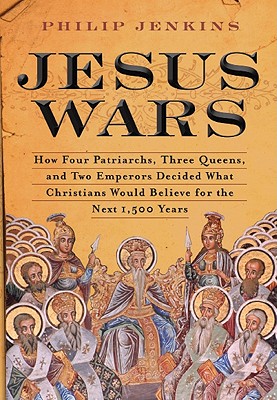 Jesus Wars: How Four Patriarchs, Three Queens, and Two Emperors Decided What Christians Would Believe for the Next 1,500 Years (Hardcover)
How Four Patriarchs, Three Queens, and Two Emperors Decided What Christians Would Believe for the Next 1,500 Years
HarperOne, 9780061768941, 328pp.
Publication Date: March 9, 2010
* Individual store prices may vary.
or
Not Currently Available for Direct Purchase
Description
In Jesus Wars, highly respected religious historian Philip Jenkins (The Next Christendom) reveals in bloody detail the fifth century battles over Christianity's biggest paradox: the dual nature of Jesus Christ, as both fully human and fully divine. Jesus Wars is a must for the bookshelf of those who enjoy the work of Jared Diamond, Karen Armstrong, N.T. Wright, Elaine Pagels, and Alister McGrath, as well as anyone interested in early Christian history.
Praise For Jesus Wars: How Four Patriarchs, Three Queens, and Two Emperors Decided What Christians Would Believe for the Next 1,500 Years…
"Are you hungry for a rip-roaring tale of theological intrigue filled with conspiracies, Byzantine plots, murder, and mayhem? Or are you longing for a solid, informative, and accurate history of the development of Christian orthodoxy? If your answer is yes to both, Philip Jenkins's Jesus Wars...is your book."
-Christianity Today

"Jenkins...has done a remarkable job of documenting this little-understood slice of history. There's lots of excitement and plenty of intrigue, and Jenkins does a fine job in his recitation of this strange story."
-Publishers Weekly

"In showing general readers how he finds fresh ideas and the resurrections of past teachings invigorating to religious studies, Jenkins provides an accessible book . . . the book enlightens readers on the backstory to current Christian divisions . . . "
-Library Journal

"Jenkins condenses centuries of church and imperial strife with admirable clarity..."
-Booklist (starred review)

"Jenkins manages to explain very clearly why people in the early Christian era were so passionately concerned with issues of high theology."
-The Economist
Advertisement