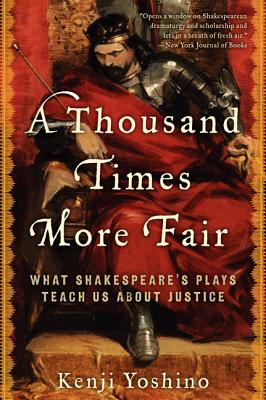 A Thousand Times More Fair
What Shakespeare's Plays Teach Us About Justice
Paperback

* Individual store prices may vary.
Other Editions of This Title:
Hardcover (4/12/2011)
Description
"Fascinating....Loaded with perceptive and provocative comments on Shakespeare's plots, characters, and contemporary analogs."
—Justice John Paul Stevens, Supreme Court of the United States
"Kenji Yoshino is the face and the voice of the new civil rights."
—Barbara Ehrenreich, author of Nickled and Dimed
A Thousand Times More Fair is a highly inventive and provocative exploration of ethics and the law that uses the plays of William Shakespeare as a prism through which to view the nature of justice in our contemporary lives. Celebrated law professor and author Kenji Yoshino delves into ten of the most important works of the Immortal Bard of Avon, offering prescient and thought-provoking discussions of lawyers, property rights, vengeance (legal and otherwise), and restitution that have tremendous significance to the defining events of our times—from the O.J. Simpson trial to Abu Ghraib. Anyone fascinated by important legal and social issues—as well as fans of Shakespeare-centered bestsellers like Will in the World—will find A Thousand Times More Fair an exceptionally rewarding reading experience.

Praise For A Thousand Times More Fair: What Shakespeare's Plays Teach Us About Justice…
"A sensitive and lively mind work[s] its way through the legal themes in some of the most beautiful passages in English literature."
— New Republic

"[An] insightful inquiry into the contemporary relevance of the Bard's vision of justice. . . . A refreshing reminder that questions of justice may lead to dramatic poetry, not legal jargon."
— Booklist (starred review)

"Readers will find Yoshino provocative, often controversial, and Shakespeare, as always, entertaining."
— Publishers Weekly

"Neither a prosecutor nor a defense lawyer herein, Yoshino is a refreshingly engaging advocate for Shakespeare."
— Newark Star Ledger

"[W]ell-informed by scholarship, nuanced and appealingly written. . . . [P]erhaps the most enlightening study of the subject to appear in a century."
— Charlotte Observer

"In the enlightening and readable A Thousand Times More Fair, author Kenji Yoshino opens a window on Shakespearean dramaturgy and scholarship and lets in a breath of fresh air."
— New York Journal of Books

"A remarkably imaginative and scholarly work. It reminds us that in Shakespeare's time, like our own, the law and ideas of justice were in flux."
— California Lawyer

"Fascinating. . . . Loaded with perceptive and provocative comments on Shakespeare's plots, characters, and contemporary analogs."
— Justice John Paul Stevens, Supreme Court of the United States

"Until Kenji Yoshino's book, I had found little of value in 'Law and Literature' studies. He redeems the mode. Shakespeare, most capacious of souls, is shown by Yoshino to illuminate the vast and complex structures that must inform the role of law in our struggle for a just society."
— Harold Bloom, author of SHAKESPEARE: THE INVENTION OF THE HUMAN

"Kenji Yoshino brings to his lively reading of the plays the full force of his passionate brooding on issues of justice in contemporary society. A THOUSAND TIMES MORE FAIR will appeal to anyone interested in the uses of great art to reflect on some of our culture's most vexing problems."
— Stephen Greenblatt, author of WILL IN THE WORLD

"Who knew that there was such a brilliant and fresh reading of Shakespeare waiting to be discovered? Only Kenji Yoshino, with a poet's ear for language and a lawyer's passion for justice, could have done it."
— Carol Gilligan, University Professor, NYU

"The ingenious and well-argued premise of Kenji Yoshino's new book is that justice in a form that we can understand and relate to modern concepts of legal justice is a pervasive theme of Shakespearean drama. . . . Shakespeare, in law as in so much else, remains our contemporary."
— Judge Richard A. Posner
Ecco, 9780061769122, 320pp.
Publication Date: April 17, 2012
About the Author
Kenji Yoshino, Chief Justice Earl Warren Professor of Constitutional Law at New YorkUniversity School of Law, is the author of the award-winning memoir Covering. He lives inNew York City.