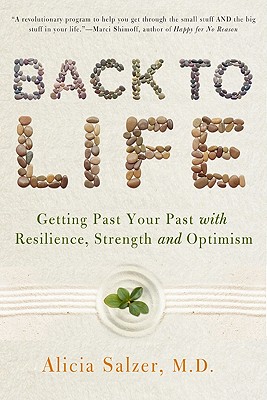 Back to Life (Hardcover)
Getting Past Your Past with Resilience, Strength, and Optimism
William Morrow, 9780061771064, 304pp.
Publication Date: January 18, 2011
* Individual store prices may vary.
Description
"Dr. Salzer offers an empowering new approach to trying on the coping skills and outlooks of heroic overcomers. These are life skills we all should have learned as kids."
—Dr. Mehmet Oz, bestselling author of YOU: The Owner's Manual, host of The Dr. Oz Show

Back to Life by Alicia Salzer, M.D. is a wise, sympathetic, and practical guide for overcoming traumatic setbacks, and living a normal, happy life without being a victim. The former resident psychiatrist on the Montel Williams show, Dr. Salzer offers a fresh new take on trauma treatment, a method for "getting past your past with resilience, strength, and optimism" designed for anyone who has experienced catastrophe. Destined to become a classic work on emotional recovery, this remarkable volume points the way down the path Back to Life, and belongs on every bookshelf next to When Bad Things Happen to Good People.
About the Author
Alicia Salzer, M.D., completed her B.A. at the University of Pennsylvania and obtained her M.D. from Cornell University. She has held posts at UCLA, Columbia University, and the Mount Sinai School of Medicine. An advocate for victims of psychological trauma, she has served on the Speaker's Bureau of the Rape, Abuse & Incest National Network (RAINN) and has volunteered for Disaster Psychiatry Outreach, an organization that provides free mental health staffing and treatment following disasters such as 9/11. After volunteering at Ground Zero and at the family assistance center after the 9/11 attacks, Dr. Salzer worked for three years at a clinic that exclusively served Ground Zero rescue workers and volunteers.
Praise For Back to Life: Getting Past Your Past with Resilience, Strength, and Optimism…
"A sensible escort to identifying and deploying signature strengths buried by traumatic emotional paralysis."
— Kirkus Reviews

"...[W]ritten from the heart and with sound psychology to provide help to readers . . . Salzer gives a road map for how to get there."
— Library Journal

"[Salzer's] resilience skills will benefit any reader, whether dealing with trauma or not . . . full of humanity, humor, and respect. . . . Salzer explains clinical concepts in a straightforward yet interesting way."
— Publishers Weekly

"Dr. Salzer offers an empowering new approach to trying on the coping skills and outlooks of heroic overcomers. These are life skills we all should have learned as kids."
— -- Dr. Mehmet Oz, bestselling author of YOU: The Owner's Manual, host of The Dr. Oz Show

"Dr. Alicia Salzer's book is a gift for our times. There is hardly a soul out there in these jaded and trying times who wouldn't benefit from refreshing their outlook and their will to live with what I call, a dose of the Doc."
— Montel Williams, Host & Executive Producer of "The Montel Williams Show" and New York Times Bestselling Author

"BACK TO LIFE offers a revolutionary program to help you get through the small stuff AND the big stuff in your life. Dr. Alicia shares practical wisdom gleaned from her work with the hundreds of trauma survivors she has helped over the years."
— Marci Shimoff, #1 NY Times bestselling author, Happy for No Reason and Chicken Soup for the Woman's Soul, featured teacher in The Secret

"Finally! Someone who truly understands how to help victims get 'back on track' after Trauma. Dr. Salzer's positive, upbeat and realistic approach to overcoming PTSD is not only extremely resfreshing...it works."
— Kathleen Baty, Stalking Victim/Survivor and author of A Girl's Gotta Do What A Girl's Gotta Do: The Ultimate Guide To Living Safe and Smart

"BACK TO LIFE is a new and revolutionary book for victims and survivors to reclaim their lives with techniques, insight and step by step help. This book gives trauma victims and survivors hope for a renewed future."
— Sheryl Cates, CEO Texas Council on Family Violence, National Domestic Violence Hotline
or
Not Currently Available for Direct Purchase