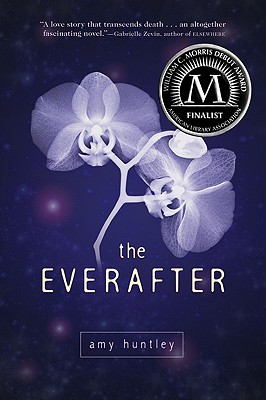 The Everafter (Hardcover)
Balzer + Bray, 9780061776793, 256pp.
Publication Date: September 29, 2009
* Individual store prices may vary.
Description
Madison Stanton doesn't know where she is or how she got there. But she does know this—she is dead. And alone, in a vast, dark space. The only company she has in this place are luminescent objects that turn out to be all the things Maddy lost while she was alive. And soon she discovers that with these artifacts, she can reexperience—and sometimes even change—moments from her life.
Her first kiss.
A trip to Disney World.
Her sister's wedding.
A disastrous sleepover.
In reliving these moments, Maddy learns illuminating and sometimes frightening truths about her life—and death.
This is a haunting and ultimately hopeful novel about the beauty of even the most insignificant moments—and the strength of true love even beyond death.
About the Author
Amy Huntley says that a colleague's musings were the spark that inspired The Everafter: "I've always had a tendency to attach myself to the objects of my life, so when one of my friends said something like, 'Wouldn't it be funny if all those things you lost turned up after you were dead, just when you didn't need them anymore?' it got me thinking. But I wanted to believe there would be a purpose to their reappearance. As the story evolved, I realized that Madison's quest to make peace with moving on to the Everafter is really the same battle that everyone goes through as they grow and become someone new."
Amy lives with her daughter in Michigan, where she is a teacher of high school English.
Praise For The Everafter…
"In The Everafter, Maddy relives moments from her life which broke her heart, made her laugh uncontrollably, and forced her to grow. Amy Huntley's book will do the same for you."
— Jay Asher, author of the New York Times bestseller Thirteen Reasons Why

"A mystery about life's greatest mysteries, a love story that transcends death, a ghost story with real substance, and an altogether fascinating novel about the redemptive possibilities in lost things."
— Gabrielle Zevin, author of ELSEWHERE

"Stories about dead teens used to be mainly weepers about beautiful young girls with tragic diseases. Now along with vampires and zombies there are explorations of just what life after death might look like...Huntley's take on the topic is cleverly constructed and compelling....Intriguing and thought-provoking."
— Kirkus Reviews

"Huntley is an author worth watching."
— Publishers Weekly

[The Everafter is] a book that will stick with readers, making them think no only about Maddy but also about the nature of life and death, time, possessions, and the interactions with both people and things that make us, us.
— Voice of Youth Advocates (VOYA) (starred review)

This fresh take on a teen's journey of self-exploration is a compelling and highly enjoyable tale. Huntley expertly combines a coming-of-age story with a supernatural mystery that keeps readers engrossed until the climactic ending.
— School Library Journal
or
Not Currently Available for Direct Purchase